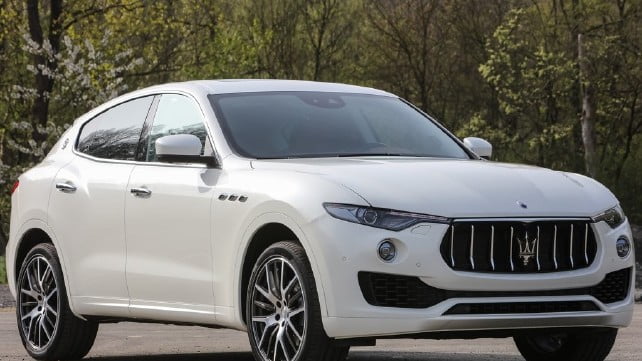 Italian premium performance carmaker, Maserati showcased the Levante at the 2016 Geneva Motor Show. The Levante is indeed the company's first ever SUV in its hundred-year history. It is likely that Maserati will offer will also offer a performance version along with a regular one. Based on the Quattroporte and Ghibli architecture, the automaker claims that the vehicle has been further evolved and refined to meet the segment needs.  Ahead of its official launch sometime soon, we reveal a few details on the upcoming SUV.
The India-bound Maserati Levante will get a right hand drive version. In terms of design, the vehicle gets an upmarket and distinctive design. The front gets a traditional large grille with vertical slats and a prominent trident badge. The rear section gets a traditional Maserati badging at rear over the chrome strip above the number plate. The rear also get uniquely shaped LED taillights that gives the vehicle a unique identity. The Lenvante claims to offer impressive on-road and off-road performances wherein the front gets double-wishbone suspension while the rear will get multi-link suspension, along with electronically controlled damping and four corner air-springs which provides 5 dynamic ride levels (plus one additional park-position).
Under the hood, the Maserati Levante will be offered in petrol and diesel variant. The petrol version will be powered by a 3-litre V6 Twin-Turbo engine which generates 345bhp of power, while the diesel version will be powered by a 3-litre V6 turbo engine that generates 274bhp of power. As for the performance focused Levante S, it will also be powered by a 3.0-litre petrol engine but produces higher power output figure of 425bhp. All the engines feature a Q4' intelligent all-wheel drive system which enables can transfering torque between the axles instantly as and when required. The powerful engine comes mated 8-speed automatic gearbox, with integrated Start and Stop System. The regular petrol Levante accelerates from 0-100kmph in just about six seconds and achieves a top speed of 251kmph, while the diesel version does a 0-100kmph in just about 6.9 seconds and achieves a top speed of 230kmph. The performance Levante S does a 0-100kmph in just about 5.2 seconds while achieving a top speed of 264kmph.
Inside, the vehicle gets an updated Maserati Touch Control system with 8.4-inch high-resolution capacitive screen which in addition to touch screen can also be used via new rotary control in central tunnel. Customers might get to choose between an array of upholstery colour options that suits their taste. As for safety, it comes with advanced driver assistance system, adaptive cruise control, forward collision warning, blind spot alert, surround view camera, automatic brake assist system and lane departure warning system.
source"cnbc"