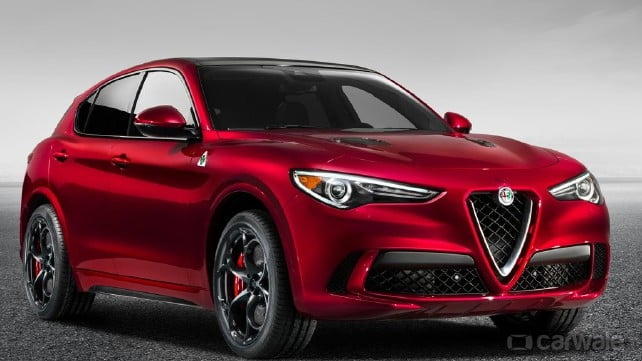 Alfa Romeo is one of the oldest Italian car makers that has been able to retain the classic Italian fervor in building cars. After the Giulia that sent many a heart racing, Alfa has unveiled their latest car – the Stelvio SUV. Named after the famous Stelvio pass bordering Italy, it is the first-ever SUV built by the Italian brand known for its sporty cars.
The Stelvio is built on the same 'Giorgio' platform as the Giulia which means the longitudinally mounted engine sits in the front and drives the rear wheels or four. In case of the Stelvio, it drives all four wheels thanks to Alfa's Q4 all-wheel drive. The chassis gets a large dose of aluminum and strives for the ideal 50/50 weight distribution between the front and the rear axles – something that sports cars strive for.
The Stelvio certainly gets the new 2.9-litre 503bhp twin-turbocharged Ferrari V6 engine from the Giulia Quadrifoglio that has had the automotive world in smiles. You also have a 2.0-litre turbocharged four-banger petrol that develops about 280bhp of power and 400Nm of torque for your daily runs. And yes, you can opt for a diesel as well. The 2.2-litre Multijet should be available in 207bhp, 470Nm setup as it is the only diesel Q4 setup. Globally, the Stelvio should be available with the six-speed manual and the eight-speed automatic gearboxes across all the engines and trims.
In terms of looks, the typical Italian beauty is defined by the flowing lines and the classic triad grille fascia. The centre grille is taller and gets a chrome lining while the slim swept back headlamps extending right across the fascia. The projector units get LED daytime running lamps. The design is simple yet stylish with creased long-ish bonnet, a twin-cab profile and slightly flared wheel arches. The Stelvio is not very tall and Alfa says the height has been restricted to match the driving dynamics to Alfa's lineage.
Inside, the Stelvio will be plush with a black themed leather upholstery that gets highlight stitching. The twin-pod instrument cluster reads revs and speed, 320kmph in case of the Quadrifoglio. It gets a TFT screen between the pods that reads all the vitals and any other information that you may need. The touchscreen on the centre console will be 6.5 inches on the standard car while the top-spec car might get the larger 8.8-inch touchscreen. The red push-button start sits on the steering just like a sports car and it will get driving modes for the higher performance trims.
The Stelvio will compete with the Porsche Macan and the Mercedes GLC AMG amongst performance SUVs. The price tag is yet to be announced and the Stelvio is expected to be launched globally by the end of 2017.
source"cnbc"