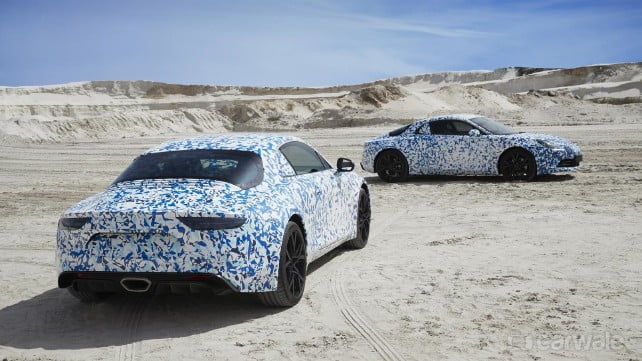 Alpine was a French car manufacturer which was born in 1955 and breathed its last in 1995. Now its parent company Renault is set to resurrect the brand after almost two decades. As the way most of the Alpine cars were named, the latest car is expected to be called the A120 and will make its debut in late 2017.
The A120 is teased in a video where we can see the car drifting around on the wet tarmac. The new car is expected to retain its design and shape from the Alpine Vision Concept showcased earlier this year. The concept was, and eventually, the A120 will be, a reminiscent of the 1960's legend – the A110, especially the overall shape and the front fascia.
As we can see in the teaser video, the two-door coupe has got the tail lights straight out of the concept car and so is the fastback roofline. The A120 could have a curved rear windshield as found in the A110 and the other celebrated cars of its time. At the front, the circular fog lamps inching ahead on the nose and the headlamp design are also scrounged from the A110.
The new car from the revived brand will have a rear-wheel drive, mid-engine drivetrain. The engine will be sourced from Renault and hence the 250-300bhp power output from the 1.6-litre from the Clio RS is on the cards. The only official detail revealed by the manufacturer is that the car will do a 0-100kmph sprint in 4.5seconds.
Ahead of its launch, the manufacturer has started bookings of its limited-edition called the Première Edition. The first 1955 cars from the factory will have the number of the limited edition on a plaque on the centre console apart from exclusive appointments, says the French manufacturer. 1955 units of the limited edition will be produced as it signifies the year when Alpine founder Jean Rédélé first established the company. Colour options will include blue, black and white. Bookings can be done via a special mobile app or on the official website in selected European countries, with Japan to get the reservation only next year.
An SUV will follow the A120 in the Alpine's portfolio. The convertible could also make its way later. The A120 is expected to be priced between € 55,000 (approx Rs 39.39 lakh) and € 60,000 (approx Rs 42.97 lakh) as it will lock horns with Alfa Romeo 4C And Porsche Cayman when it arrives late next year.
/>
Tags: Renault,Alpine,Alpine A120,A120,Première Edition
2016 Renault Lodgy Stepway Edition Picture Gallery