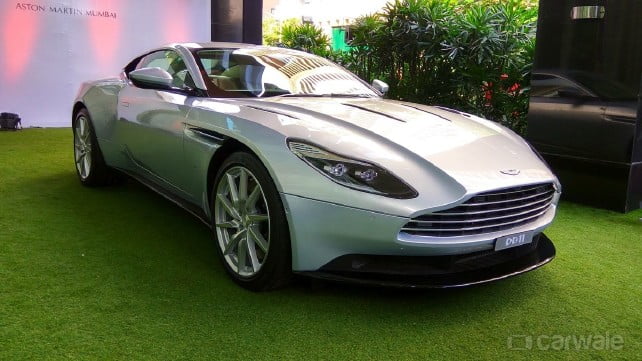 Everyone knows that Aston Martin is James Bond's favourite car. Now that his latest favourite, the DB11 has graced Indian shores, here a few pictures of the V12 beauty for the enthusiasts.
Aston Martin was born in England and the finesse is evident in the design. It is racy, focussed but not overtly aggressive like its Italian counterparts.
The long hood gets breathing slits and muscular lines. The gaping wide grille ensures that the high performance engine cools down and the lip spoiler on the air dam looks killer.
It gets all LED headlamps and the twin element swept back eyes has a feline touch to it. The adaptive headlamps stand out on the blacked out unit.
It has the typical supercar lines – hunkered, low slung and has voluptuous supermodel curves. The flared arches in the back teaming up with the sloping roof add to its beauty.
From the back, the minimalist LED tail lamps blend with the curves. The deployable rear wind pops out at higher speeds to provide additional downforce and grip.
The cabin is dressed in British luxury and is classy and opulent. The leather is exquisite and the upholstery is hand-woven at places.
The seats are obviously power adjustable in every way possible. While you would expect a performance car like this to have racing buckets, these seats are super comfortable.
The centre console is simple but has every possible feature you would need for comfortable motoring along with a TFT screen and a rotary controller.
The instrument console is also a large TFT screen but the meters read analogue. Like everything else, the cluster is comprehensive in reading out all the vitals and data you would want.
While there are two seats in the second row they are best reserved for the toddlers. There is enough space in the boot though to carry all the luggage you would need.
The 5.2-litre twin turbocharged petrol V12 engine lurks under the hood and develops 600bhp of power at 6500rm and 700Nm of torque from 1600rpm.
The power is transmitted to the 295mm rear tyres through an eight-speed automatic transmission. The ventilated two-piece disc brakes make sure that it slows down from its top speed of 322kmph.
source"cnbc"