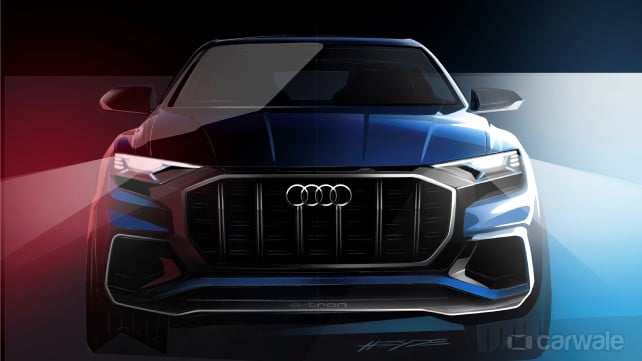 Audi is joining the coupe SUV bandwagon and will reveal its first challenger in the form of the Q8 E-Tron at the 2017 Detroit Auto Show next month. This will be Ingolstadt's challenger to the likes of the BMW X6 as well as the Mercedes-Benz GLE Coupe.
The images reveal a sleeker and sportier version of the Q7 which has been achieved thanks to a lowered rear roof line and lengthy overhangs both in the front and rear. It sports an aggressive version of Audi's six-slatted honeycombed grille with large air intakes in the spaces where the fog laps would normally appear. It is expected to get the standard Audi rear-end with signature elements like the ridges on the hatch door as and the arrow shaped tail lamps. The German automaker has already confirmed that the cabin will be shared with the next generation A8 (previewed through the Prolouge concept which we saw at the 2016 Auto Expo)
The letters E-Tron indicate that this will be offered as a hybrid and full electric model with a plethora of technologies related to autonomous driving, safety and driving experience. It will be shown in production form sometime next year with a market launch in 2019. It will come to India as Audi's new flagship and slot in above the Q7 in the lineup. However, given its advanced technologies, we believe that it will be a CBU and based on demand might become a CKD later.
source"cnbc"