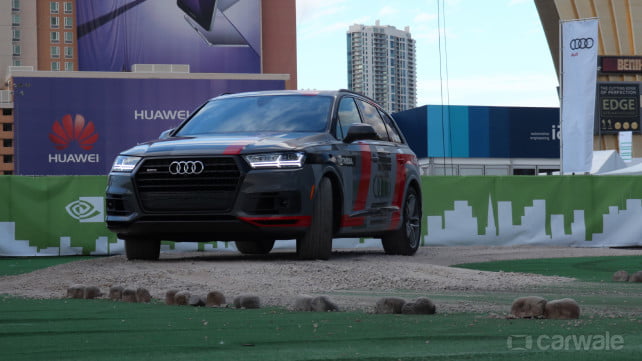 Audi has utilised the 2017 Consumer Electronic Show (CES) to demonstrate its prowess in AI and deep learning technology for vehicles developed in partnership with American technology firm, Nvidia. Both these companies together presented a self-driving Q7 at the show.
At first, with a human driver behind the wheel, the Q7 demonstrated deep learning concept in a specially designed open area for piloted driving. Subsequently, making use of a front-mounted camera it sent data to a NVIDIA Drive PX 2 processing unit, which then controlled the steering inputs accordingly. The Q7 prototype backed with additional training cameras and its deep learning gimmicks were able to familiarise with the surrounding better, adapting a correlation between the driver's reactions and the occurrences detected by the cameras. It was also able to interpret traffic signals and react immediately with a different driving strategy.
The deep learning proficiency from Audi was benefited by its presence at the conference on Neural Information Processing Systems (NIPS), an AI event held in Barcelona in December. The fruit of which will soon be seen in the upcoming cars from Audi. First of which is the new A8 which is slated to be launched later this year. It will use a next-gen MIB2+ platform which uses Nvidia's Tegra K1 processor. Audi's other partner – Mobileye will also chip in with the new A8 tech, as the flagship sedan will be brimming with new-age autonomous tech.
Audi and Nvidia are planning to strengthen their long-standing partnership. Combining Nvidia's development for AI applications and Audi's experience in the area of vehicle automation, Audi is evaluating various approaches and methods for machine learning and AI in automotive applications.
source"cnbc"