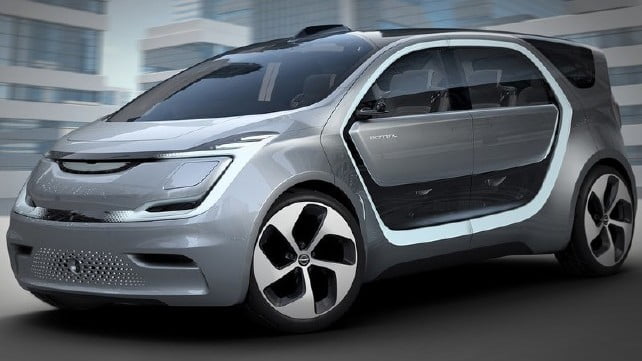 Fiat Chrysler has taken the wraps off its Portal minivan concept at the 2017 Consumer Electronic Show. This model is the fifth generation for the body style that bought Chrysler back from the brink of bankruptcy and is a way for the automaker to take forward its legacy.
The Portal has all the typical Chrysler van lines that have defined the range but packed to the brim with technology that we can expect to see in future FCA vehicles. We would have loved to point out specific design elements that make this futuristic car stand out but it is so funky looking that the car as a whole just stands out. There is a large moustache like grille and massive glass area dominating the face while the side flip out dual doors which when opened reveal the absence of a B-pillar. Finally, at the back we can see the LED tail lamps that look like they have been painted into the glass area.
The company, in its official text, has said that the car has been designed inside out and this is very evident in the cabin which has a minimalistic appearance. The seating system is reconfigurable for a variety of purposes while dashboard has a central touchscreen to control all functions expect the climate control.
Powering this futuristic minivan is a 350kW electric motor that powers the front wheels with a full range of 400km of which a quick charge (20 mins) can achieve a range 240kms. It can be used in three semi-autonomous driving modes as well as in one fully autonomous driving mode which can be upgraded as the technology develops.
Here is where things gets interesting…The car has been fitted with an in-vehicle wireless network to allow the occupants to access cloud based applications. In addition to all the technology for autonomous driving the car also gets vehicle-to-vehicle communication, personalised audio zones, and seamless integration of smart devices as well as in car data sharing.
While we may not get the Portal in production form in India, we can be sure that much of the technology from the concept car will make its way across the FCA range in a bid to improve user
source"cnbc"