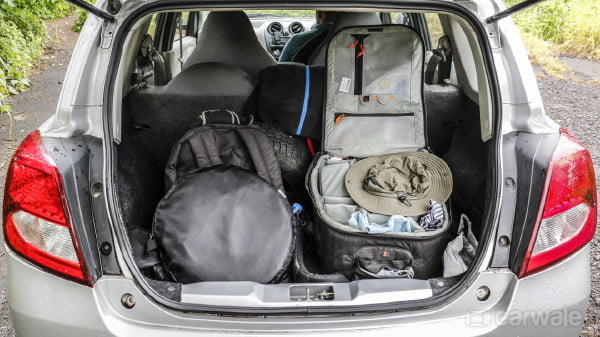 Datsun Go+ Long Term Review 2
With the Indian car market only headed towards hatchbacks, compact sedans and crossovers, fewer wagons are on the road than ever before. From the looks of it, the Go+ is the last of its kind. To give you an idea of the practicality, there are a very few cars that photographers don't complain about using as their rig, and this is one of them.
See, photographers have bags and lots of them. Lenses, tripods, reflectors each have their own bags, if that's not enough there is a bag for the photographer's hat too! So where am I getting with this? These bags need place and they fit comfortably in the Go+. What's more is that the low loading lip height enables easy access too. The first thing most car buyers in India look for is fuel efficiency, no worries there, the 1.2 litre engine has got you covered. The second thing is practicality and trust us this Datsun has got you covered there too. We don't see a reason why this car is not managing higher sales figures.
Or do we? As soon as you get in the car, there is that basic (only aux) music player. Along with a flimsy mobile holder which does not stretch wide enough to hold any modern smartphones. The unit has a USB slot but that's for charging only. This simplistic unit would be just okay on a car half its price and could be a major factor in giving potential buyers that Datsun has chosen to cut costs wherever possible. Another problem that has us hassled are the outside rear view mirrors, they are a little short in the height department. If adjusted to backing up, one has to re-adjust them for rear viewing while driving and vice versa. However, that is not a decision breaker and certainly not something an aftermarket sticky mirror add-on couldn't fix.
We told you how the car is equipped with puny wheels and tyres but they have surely surprised us. The car has been well setup and manages to take large sized potholes without breaking a sweat. The Go+ has accompanied us on a few off-road shoots and has managed to eat up rough sections of roads without a problem. Another thing this car does a lot of as our main camera car, is take U-turns. The Go+ manages to surprise us every time taking incredibly quick U-turns in a number of tricky scenarios, all thanks to its short turning radius.
In our next report, we will tell more about the unique interior layout of the car and how it is to live with, it's ride and some of its quirky traits.
Photos: Kapil Angane
source"cnbc"