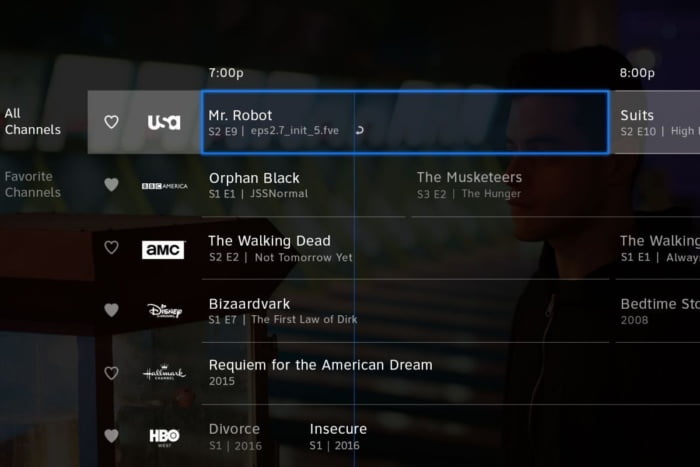 After months of hype with little substance, AT&T has launched DirecTV Now, a bundle of streaming channels that will compete with Dish Network's Sling TV and Sony's PlayStation Vue.
While AT&T bills its new service as "TV beyond your wildest dreams," on paper it's not markedly different from its competitors. We'll have more to say about how well the service performs in the coming weeks. For now, here are all the details we've gleaned from from AT&T's public statements and a little bit of hands-on time:
What is DirecTV Now?
DirecTV Now is a new streaming channel bundle from AT&T (which acquired DirecTV last year). It gives you a big bucket of TV channels for a monthly rate, but streaming through Internet-connected devices instead of a cable or satellite TV box.
How much does DirecTV Now cost?
Pricing starts at $35 per month for roughly 60 channels. Higher-priced tiers include an 80-channel bundle for $50 per month, a 100-channel bundle for $60 per month, and a 120-channel bundle for $70 per month. HBO and Cinemax are both available as $5-per-month add-ons with any package. Sales taxes may apply, but there are no other hidden fees.
You'll find a full channel list for DirecTV Now at the bottom of this story, or linked here.
Wasn't it supposed to cost $35 per month for 100 channels?
That's what AT&T CEO and Chairman Randall Stephenson said last month, but it turns out it's just a limited-time offer. If you sign up now, AT&T says it'll honor the promotion for as long as you remain a subscriber, though the price may creep up as programming costs rise.
What's included in the package?
Nearly every channel includes a live programming feed, just like you'd get with cable or satellite TV. Many channels also offer a selection of on-demand video.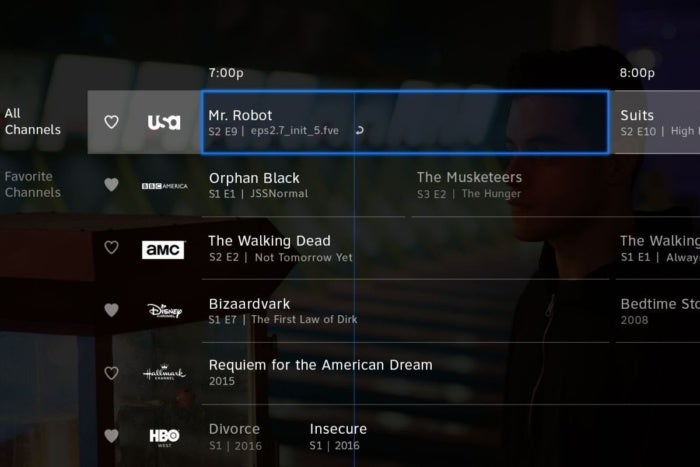 Are live local broadcasts from ABC, NBC, and Fox included?
Only in a handful of markets, listed here. And with NBC, the live feed only works on mobile and desktop devices, not smart TVs and streaming boxes. In all other areas, you'll get national programming on demand, but no live coverage.
How do you watch DirecTV Now?
DirecTV Now apps are available for iPhone, iPad, Android, Amazon Fire TV devices, Apple TV, and Chromecast (from Android only). There's also web access through Google Chrome, Internet Explorer, and Safari.
Support for Roku, Samsung Smart TVs, Amazon Fire tablets, and Chromecast via iOS is coming next year. But there's no word on support for Android TV, Xbox consoles, PlayStation consoles, or other smart TV platforms.
Does DirecTV Now support DVR or time-shifting?
AT&T is promising a DVR feature next year, but hasn't said what it'll cost or how it'll work.
In the meantime, some channels will support a "72 Hour Rewind" feature that lets you watch anything that aired in the last three days, similar to what exists on Sling TV and PlayStation Vue. Those channels also allow you to pause live programming. (The list channels supporting 72 Hour Rewind is available here.)
18% off GoPro HERO+ LCD HD Video Camera – Deal Alert

33% off Seagate Expansion 4TB Desktop External Hard Drive USB 3.0

12% off Nest Cam Indoor Security Camera – Deal Alert
Is there advertising?
You bet. The live feeds have commercial breaks just like cable and satellite TV, and ads are interspersed with the on-demand content as well. AT&T has said that better-targeted ads are a big part of its plan to keep prices down.
What regional sports channels are included?
Check this PDF for a partial list of regional sports channels by zip code, along with the professional sports teams they carry. You can also enter your zip code on the DirecTV Now website for a list of regional sports channels in your area. The channels you get are based on your billing zip code, and you can only watch when you're inside the local coverage area.
Any special deals for AT&T wireless subscribers?
On AT&T's network, DirecTV Now is "zero rated," which means streaming video won't count against your data cap. This arguably creates an unfair advantage for AT&T, since other video services would have to pay the carrier to subsidize customers' data usage, but it's unclear whether any regulation will follow.
How many devices can stream at a time?
DirecTV Now subscribers can watch on two devices simultaneously. AT&T hasn't  announced any plans for a greater number of streams.
By comparison, Sling TV allows one stream at a time with its "Orange" package, and three streams with its "Blue" package. PlayStation Vue allows five concurrent streams, but with more complicated rules around device type and location.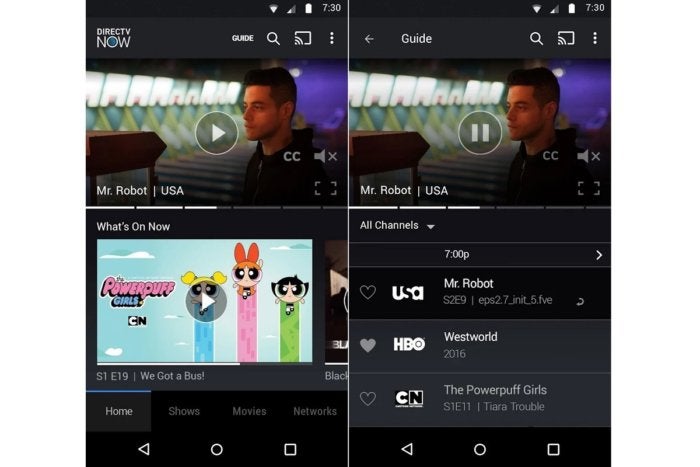 Does DirecTV Now authenticate with TV Everywhere apps such as WatchESPN?
Only with a handful: ABC, Disney, Disney Jr. Disney XD, WatchESPN, Freeform, HBO Go, and Max Go. Just select "DirecTV Now" (not DirecTV) as the sign-in option, and you can watch videos using those properties' apps and websites.
Will NFL Sunday Ticket be available?
Nope, and the NFL Network isn't part of the package either. AT&T says it's trying to negotiate a deal with the league.
Any other caveats?
NFL games are not available to stream on mobile devices, due to an exclusivity deal between Verizon and the league. The same restriction applies to other streaming bundles such as Sling TV and PlayStation Vue.
Where can I sign up?
The website is here, and AT&T is offering some device deals with prepaid service. Subscribers can get either a free Apple TV ($150 MSRP) with three months of service, or a free Amazon Fire TV Stick ($40 MSRP) with one month of service. Buyers of LeEco TVs are also getting six months of free DirecTV Now service, and LeEco phones come with three free months.
How easy is it to cancel service?
The process is fairly painless. Just sign in through the DirecTV Now website, and go to Settings > User Account > Manage My Plan. The "Cancel Plan" button is impossible to miss.
Sign up for Jared's Cord Cutter Weekly newsletter to get this column and other cord-cutting news, insights, and deals delivered to your inbox.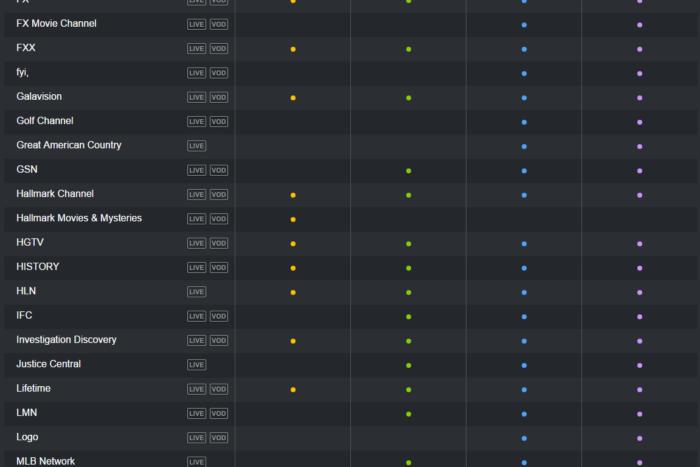 This story, "DirecTV Now FAQ: All the details on AT&T's new streaming TV service" was originally published by TechHive.
To comment on this article and other PCWorld content, visit our Facebookpage or our Twitter feed.
source"cnbc"