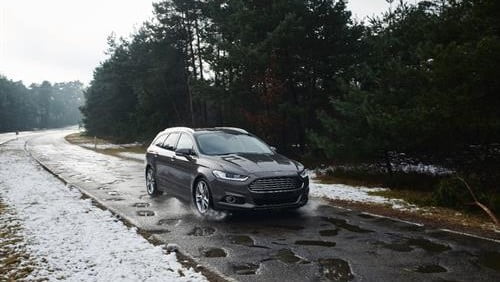 In efforts to make cars safer and more advanced than ever before, American automaker Ford is working on developing pothole warning beam system that is well equipped to identify potholes and suggest alternative routes. Along with saving up on damages caused due to potholes, the system will also help prevent major accidents that occur every year due to bad road conditions.
The map in the system gives out real-time data to drivers via in-car display. Speaking about the technology Uwe Hoffmann, research engineer, Advanced Chassis Control Technologies, Ford of Europe said, "A virtual pothole map could highlight a new pothole the mi
nute it appears and almost immediately warn other drivers that there is a hazard ahead. Our cars already feature sensors that detect potholes and now we are looking at taking this to the next level.'
Currently, in the international market the automaker already offers on board sensors for Continuously Controlled Damping with Pothole Mitigation in models like the Galaxy, Mondeo and the S-MAX. The system detects the potholes using sensors while adjusting the suspension to help reduce any potential damage. Engineers at Ford are researching on the use of cameras and embedded modems at the Ford Research and Innovation Centre, in Aachen, Germany. The data will be used to gather detailed information on the potholes and beam it to the cloud – where it can be made available to other drivers – in real time.
The company is also working on active suspension system that will reduce the severity of bumps and rough road services. The technology will be introduced in cars for the international market, while the Indian market might get it to a later date.
 source"cnbc"