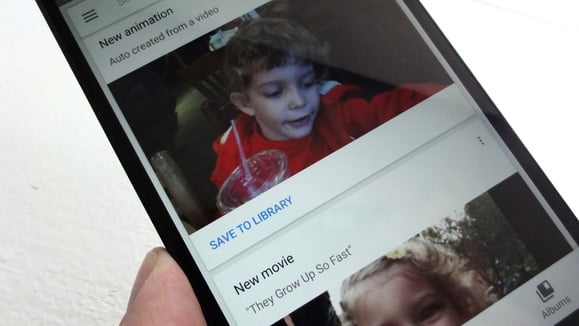 If you're a regular user of Google Photos (and if you're not, you should be), don't freak out if things are arranged a little differently when you fire up the app today. A new update rolling out to users brings some interface and layout tweaks, but the most interesting stuff is hidden deep in the code.
The visual changes are pretty easy to spot. When you head into the Albums tab, you'll see more of your photos at a glance. Instead of giant images for the albums you've created, there's a new Photos on device section at the top, which collects the pictures or screenshots you've taken with your phone. Under that you'll find any albums you've created, also organized in a row of small boxes. The Photo on device page has also been tweaked to show more on a single screen.
But thanks to Android Police's customary teardown, we have some details on what Google is planning for future updates to Google Photos. The first is a feature called auto-stories, which will be added under the Create new menu. Android Police's educated guess is that the feature will allow you to add custom parameters to Google's automatic album creation, letting you determine which sets of photos get chosen, based on "location maps, dates, groups of related photos, hashtags, and whatever other clever bits may be appropriate."
Additionally, it appears as though Google is looking to implement its Nearby feature into Photos. The current incarnation allows developers to create features based on proximity to a specific place, and we can see it in things like the directories that pop up on our phones when enter a store. Most likely, it would be a easy way to share pictures with the people around us, but the feature could also alert us to picturesque spots or nearby memories that we might have forgotten.
The update should be rolling out to most phones today, but if you're not seeing it you can sideload the Google-signed APK from APKMirror.
The big picture: Google Photos is one of the best apps on our phone, and it's great to see Google devoting so much attention to it. While the interface tweaks in the latest update are relatively minor, it shows that Google is constantly rethinking the ways we interact with the pictures on our phone, and making it easier to find, share, and organize them only makes Google Photos greater. But it's the future features that are most exciting. We've long wanted a way to control how Assistant decides which photos are worthy of an automatic album, and it looks like we'll be able to do that soon
source"cnbc"