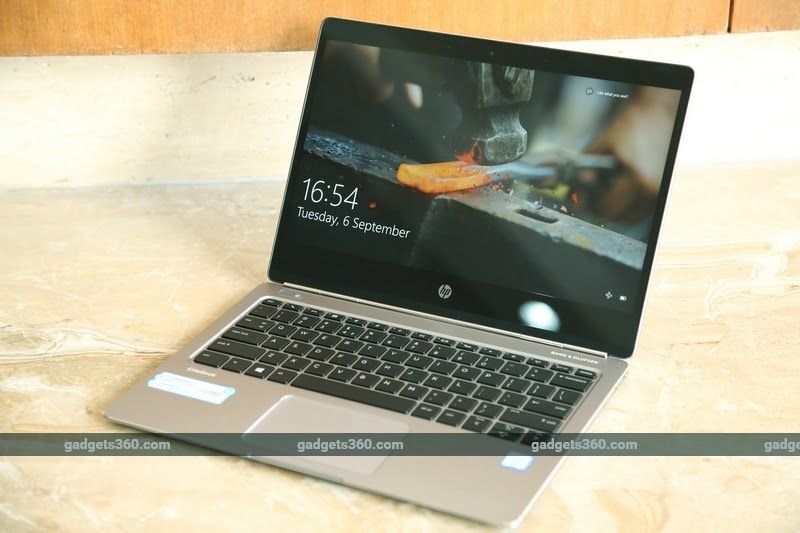 At first glance, the HP EliteBook Folio G1 appears to be gunning for the market that Apple created with its tiny 2015 MacBook. Both look to be around the same size, both are made of metal, and both have sky-high price tags. Even if Apple did it first, it should be no surprise that more than one company is headed down this path, as current-day hardware makes it possible notebooks to be smaller than ever before. However, while the MacBook is designed for anyone and everyone, the new EliteBook Folio G1 has corporate buyers in mind, specifically business travelers.
This is an interesting segment for HP to target because if the product is good enough, its value will shine through no matter the price tag. If you really need a thin and light machine to work with on planes and in cars, and if you understand the hassles of trying to give presentations and stay on top of communications while constantly on the move, you might find there's a lot to like about the EliteBook Folio G1.
HP EliteBook Folio G1 look and feel
The new EliteBook Folio G1 is an absolutely gorgeous product. It looks like a solid slab of metal, with a buffed matte finish all over except for the shiny silver hinge barrel and chamfered edges of the keyboard deck. It weighs just 1.09kg but feels a lot more solid than most ultraportables. It isn't wedge-shaped like the MacBook, but the underside has slight curves, giving you the impression that does get narrower towards the front. In fact, it's actually thinner than the MacBook's thickest point, though it makes up for that by being very slightly wider and deeper as well.
The weight is balanced perfectly, and you can raise the lid with a single finger without the base rising along with it or tipping over backwards. The hinge opens out to 180 degrees which is good for comfort and helps prevent accidental damage in case your laptop is knocked backwards. The hinge is also strong enough that the lid can stay open at any angle without falling, but that doesn't prevent the entire lid from wobbling when you use the touchscreen.
With no need for a cooling fan, you won't find any vents or openings other than the speaker grilles on the underside of the Folio G1. These are placed on the curved sides so they fire downwards and out. Sound will bounce off a flat table, but be muffled by any soft surface such as your lap. The bottom is removable if you have a Torx screwdriver (though according to HP's documentation, nothing is user-replaceable other than the SSD).
The laptop opens up to reveal a very, very glossy screen and a surprisingly capable keyboard and trackpad. The panel itself measures 12.5 inches diagonally but there are very thick borders above and below it. The keyboard is mostly full-sized, but the arrow keys are horribly cramped. We do wish that HP had left out the two stickers on the lower deck which greatly take away from the Folio G1's slick metal aesthetic.
Ports are predictably scarce, but HP has done a lot better than Apple by not only outfitting the Folio G1 with two USB Type-C ports, but also supporting Intel's high-speed Thunderbolt 3 standard. This opens up a whole world of connectivity through docking stations and peripherals. It's essentially possible to plug in a single cable and not only charge your Folio G1 but also drive an external display and have all the ports you need with one single accessory. On the downside, the two ports are placed quite close to each other on the right, and the only other port is a 3.5mm audio socket. There isn't even an SD card reader.
The Folio G1 also charges through either Type-C port. The bundled charger is a very Apple-esque rounded square with one corner scooped out for the mains cord. HP supplies a standard Indian plug, but it's on a very short lead which could make usage awkward. We were happy to see USB Type-A and Ethernet adapters in the box, though a video output option would have been very welcome.
We're also just a bit disappointed that HP didn't bundle a sleeve, since you'll undoubtedly want to use one to protect the finish when carrying the Folio G1 around. This is a device that could easily slip into any kind of backpack or sling, or even a smallish handbag, so that should have been obvious.
HP EliteBook Folio G1 specifications and software
The Folio G1's size and weight are possible mainly because of Intel's current crop of low-power CPUs that don't require fans or large heatsinks to stay cool. HP sells this laptop with either a Core m5-6y54 or Core m7-6y75 processor, and we reviewed the more powerful Core m7 version. Both options are sixth-gen Skylake CPUs that pull only 4.5W of power, but the Core m7 has slightly faster CPU and GPU clocks. It also supports Intel's vPro platform and additional security measures that corporate IT departments can use on large-scale deployments.
CPU speed is largely determined by the workload running at any time, since the range between the 1.1GHz base clock and 2.7GHz boost limit is pretty huge. This generation of Intel CPU can adjust its clock speed rapidly to deal with changing workloads, but will spend as much time idling as possible in order to stretch battery life.
The Folio G1 ships with 8GB of RAM which is soldered on to the motherboard and not upgradeable. On the other hand, the 256GB SSD is a standard M.2 module which you can swap out if you need to. The screen resolution is an adequate 1920×1080, and it looks quite sharp at 12.5-inches diagonally. You also get Wi-Fi 802.11ac and Bluetooth 4.2. For a laptop this portable we'd have loved cellular data capabilities, but you'll need an external dongle for that. The 38Wh Lithium-polymer battery is rated for 10 hours of continuous use.
Surprisingly, there's no fingerprint reader or support for smart cards, which a lot of corporate laptops have. There isn't even a Kensington lock slot to secure the Folio G1 against theft. What you do get is an integrated Trusted Platform Module which enables features like remote access, secure booting, cryptography, and software license management.
For a laptop that's supposed to be business-ready, Windows 10 Pro is only fitting. HP does load it down with a small amount of bloatware, much of which is designed around corporate asset management and security. Support Assistant takes advantage of other HP devices such as printers that an office might be outfitted with, while Client Security manages drive encryption and secure access. Touchpoint Manager lets your IT staff remotely deploy software, grant network permissions, lock and wipe lost devices, and even monitor antivirus alerts, battery health and SSD usage. Beyond that you get Foxit PhantomPDF Express and the usual bundled Windows apps including a free Office 365 trial and assorted utilities and games.
HP EliteBook Folio G1 usage and performance
We had a few misgivings about the Folio G1 due to experiences with other smaller notebooks, but were overall very pleased with how smooth our experience was. It booted up very quickly and initial setup was a breeze. Carrying it around was no problem but we weren't able to use it on our laps because the bottom got pretty hot, especially around the rear middle.
The display is highly reflective, and we had a bit of trouble using it under fluorescent office lighting. It isn't particularly bright or vibrant, but viewing angles are superb and videos look crisp thanks to the small size and high resolution. It's easy to forget that it's a touchscreen, and that's probably a good thing because fingerprints can become a real problem. Some Windows UI elements are too small to be used comfortably, but the functionality is there should you ever want it.
The speakers are surprisingly loud and boomy, with rich sound that doesn't seem like it should be coming from a laptop this thin. HP says that it engineered the Bang & Olufsen speakers for conference calls and presentations, but it works just as well for music and movies. There's an app that gives you audio enhancements including noise reduction and a basic graphic equalizer with presets.
The keyboard's top row defaults to shortcuts rather than standard Fn behavior and the first few keys are dedicated to Skype for Business. You have shortcuts to accept or reject calls and another to launch the calendar app. Typing comfort is surprisingly good. Compared to the equally thin MacBook, these keys have much better travel and much crisper, firmer switches that suit us better. The only downside is that the keyboard is a bit too loud. The trackpad is large and smooth, which makes it easy to use.
Benchmarks showed strong performance in most areas other than graphics. You should be able to multitask between heavy programs without lags or annoying slowdowns, which means that even demanding road warriors should find their needs taken care of. Other bonuses are extremely snappy read/ write performance thanks to the SSD, and of course Thunderbolt 3 if you're one of the very few with other products or accessories that can take advantage of the standard.
We measured 2,941, 3,487, and 2,979 points in PCMark 8's Home, Creative, and Work test suites respectively. What was most interesting was to see the CPU usage and temperature graphs, which showed the clock speed rising and falling quite often over the course of the tests. This matters a lot when considering our Battery Eater Pro score of 2 hours, 21 minutes of continuous heavy work, which isn't representative of everyday usage. Modern devices like this will last a lot longer because they get to reduce power for long stretches of low-intensity activity. With more common activities such as Web browsing, video streaming and office work, we were able to go 6 to 8 hours on average.
SiSoft SANDRA's file system test gave us scores of 483.2MBps and 400.19MBps for sequential reads and writes respectively, and 482.58MBps and 389.74MBps for random reads and writes respectively. CineBench R15 gave us 259cb points and POVRay finished its benchmark run in 8 minutes, 22 seconds.
Graphics scores were however way too low. The low-power Core m7's integrated GPU is good enough for everyday usage, but not gaming. 3DMark's Fire Strike test gave us only 542 points, and the Time Spy test only managed 195 points. We tried the low-impact Tomb Raider (2013) at its normal and low presets, and the best we got was an average frame rate of 17.8fps, which wasn't enjoyable. You can enjoy casual online titles, but no modern 3D games.
Verdict
The HP EliteBook Folio G1 targets a very specific niche, complementing the even thinner HP Spectre 13 which has a wider appeal. It's obviously an indulgence, but if you're the type of person who is willing to spend a lot in order to have the best possible tools, you should probably give it serious consideration. You'll be free of the usual bulk and weight that a laptop adds to your baggage, and you'll be able to get a lot done sitting in a cramped auditorium, car, or economy class cabin.
The only downsides are that you'll have to carry at least the USB Type-A adapter everywhere, and if you often need to connect to a projector, you'll need yet another accessory. Heat from the bottom could also become a problem if you're doing heavy work, and you won't be able to kill time with a quick gaming session now and then.
If you're happy with these tradeoffs, you'll find that the Folio G1 is an excellent modern laptop. All you'll have to do is convince your company's IT department to approve of a Rs. 1.5 lakh upgrade.
Price: Rs. 1,45,445
source"gsmarena"