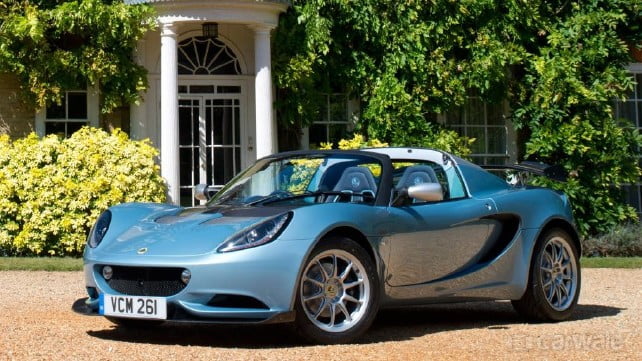 Lotus, the erstwhile English car maker, is known for its sportscars and of course, the Formula one cars. For road cars, Lotus' ideology is simple – keep the car as small and light as possible rather than concentrating on horsepower. To celebrate 50 years of their base in Hethel, Norfolk, Lotus is building 50 units of the Elise 250.
The Elise 250 Special Edition is powered by a 1.8-litre four cylinder petrol engine from Toyota. Yes, it is the same series of engines that you find in your Corolla, but has undergone the Lotus treatment to pump out 243bhp of power and 250Nm of torque. It comes mated to a six-speed manual gearbox that powers the right set of wheels though.
Lotus has made this car lighter than the standard Elise by almost 15kg. While it may seem as a small number, it becomes big when you learn that the Elise 250 now weighs only 899kg – 50kg lighter than your Maruti Swift. The weight savings are thanks to the use of hand-finished carbon-fibre and aluminium components and helps the car hit 100kmph from standstill in just 3.9 seconds as it goes all the way to its electronically limited top speed of 250kmph.
And if you thought that all this focus on weight and performance and impeccable handling would make sure that you would be uncomfortable in the speed-focussed cabin, you are wrong. The Elise gets everything from leather upholstery to climate control to Bluetooth enabled infotainment system and even cruise control. A price tag of GBP 47,900 (Rs 42.3 lakh approx.) looks easy for a machine that is known to be one of the best handling cars in the sportscar world but with only 50 being made, getting your hands on one would certainly be much more difficult.
.source"gsmarena"