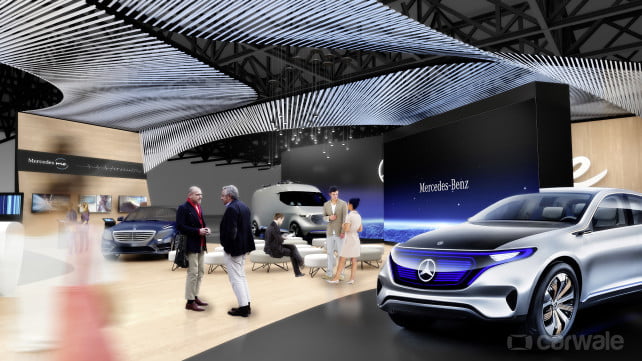 With the advent of computer and electronic gadgetry in the automobiles in the past few years, the Consumer Electronic Show (CES) has witnessed an increased participation from car manufacturers. The 2017 edition of the CES will be held between January 5 and 8 in Las Vegas. Where Mercedes-Benz will be focusing on its new corporate strategy – CASE (Connected, Autonomous, Shared & Service and Electric Drive).
CASE stands for "Connected, Autonomous, Shared & Service and Electric Drive" which is a new corporate strategy from Mercedes-Benz. Under this banner, the German manufacturer will be bringing in Concept EQ and the Mercedes-Benz Vision Van to the show.
The Concept EQ was unveiled at the 2016 Paris Auto Show and this design concept will be the base for the future sporty crossover which will be electric powered. The Vision Van, on the other hand, is a concept of future electric vans from Mercedes-Benz, according to whom it is "a revolutionary van study for urban use, combines a wealth of innovative technologies for 'last mile' deliveries."
Apart from these two concepts sharing the stage for the first time, Mercedes-Benz will take the opportunity to demonstrate something called as 'Fit&Healthy'. Under this banner, Mercedes-Benz intends to present a vision of how society's increasing health consciousness can be intelligently combined with future mobility. In simple terms, Mercedes-Benz will highlight their work in the field of artificial intelligence, vehicle connectivity, and connecting vehicle to smart homes. Along with this Mercedes-Benz will also provide insights into the latest work of its research and development teams.
Ola Källenius, the member of the board of management of Daimler AG, emphasising the plans for the 2017 CES, said, "Our notion of mobility will change more dramatically in the next five to ten years than in the preceding 50. Our CASE strategy will help us to shape the future of mobility. The objective is to make the car a platform for future mobility concepts and a space that offers a digital experience. The car of the future must be networked, autonomous, and emissions-free and deliver the possibility of shared mobility."
source"cnbc"