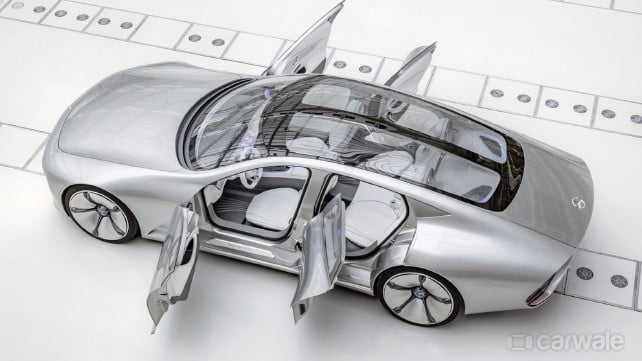 Sources suggest that Mercedes-Benz is planning to introduce at least six EVs between the years 2018 and 2024 to compete with the likes of Tesla and the zero-emission vehicles from the VW group.
That's not all, there could actually be close to nine models in the pipeline due to the boost in the car maker's interest to develop electric vehicles. Reports claim that MB is working on a plug-in hybrid SUV which features a combustion engine that's coupled to an electric motor powered by fuel cells.
As of now, there's no clear indication if the vehicle is actually the GLC F-CELL (above), which was unveiled earlier as a prototype that could make it to production in 2017. This car is believed to have a 48km range on pure electricity, and a combined range of 500km before exhausting the on-board hydrogen and petrol.
Mercedes-Benz is all set to reveal a concept EV at the Paris Motor Show which is expected to showcase their intentions regarding the new EV model line-up, called 'MEQ'. Their EVs a re reportedly going to carry the 'EQ' prefix in their names, and the company is already working on a number of names like 'EQA' and 'EQB', to name a few.
Tags:
Mercedes-Benz Electric Vehicles
5 new cars to be launched in September 2016
Sep 06 2016 by Omkar Thakur
23878 View(s)
Be the first to comment
The Festive season has kicked off with Lord Ganesha having arrived amidst happy showers of rain and flowers. These are the happy times when you want to go bring something new home. So if that might be on four wheels, here are five cars that are going to be launched this month.
New Jaguar XF
Ganesha drives a mouse but don't worry, he won't be afraid of a leaping cat in your garage. The new Jaguar XF is slated to be launched this month. Though it might look almost the same, there is a sea of changes under the skin and adds agility to the cat along with power and efficiency.
New Audi A4
If you thought it is only Jaguar who has an entirely new car that looks almost the same as its predecessor, you have the Audi A4 here. With renewed underpinnings and the reworked engines wth better power and emissions, the A4 is set to fight the other Germans.
Toyota Etios / Etios Liva
The Etios and Liva twins were developed especially by Toyota for emerging markets. Now focussed on safety, the new Etios twins will carry a brand new fascia, chiselled bumpers and swanky interior to take on the budget car segment in the Indian car market.
Hyundai i20 AT
The Hyundai i20 has been the bestselling premium hatchback for a long time. More space, futuristic looks and frugal engines coupled with lower maintenance cost have ensured the i20 remains a favourite. With automatic option added now, the i20 line-up will now be complete.
Nissan Terrano AMT
The Renault Duster twin is known for its excellent road manners and swankier interior. The Duster added all-wheel-drive to its repertoire and then AMT. Now it is the turn of the Nissan Terrano to get its special set of skill and the first one is AMT.
Tags:
Hyundai,Audi,Toyota,A4,Au
source"gsmarena"