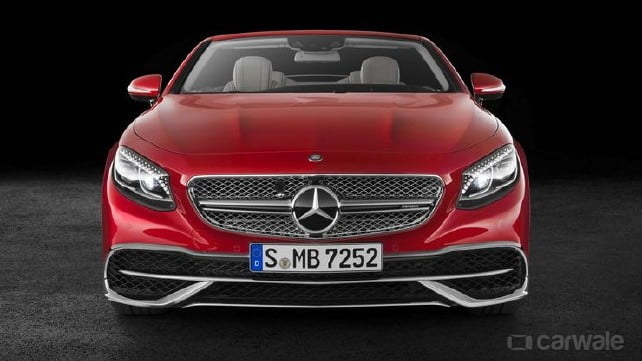 Mercedes had hinted at a new sporty Maybach at Pebble Beach when they unveiled the Maybach 6 Concept Coupe earlier this year. So when they unveiled the Maybach S650 Cabriolet production car at Los Angeles, many expected it to be inspired from the concept. The S650 has turned out to be a plush, luxurious S65 AMG with a price tag of $323,000 (Rs 2.2 crore approx.), which is $100,000 more than the S65.
There are few visual cues to make the Maybach S650 Coupe stand out from the S65 AMG. The grille is dipped in chrome and the new bumper has its black honeycomb mesh air dam lined in chrome as well. The intelligent LED headlamps get Swarovski crystals. It gets new alloys on the side and the Maybach crown on the front fender. The tail design is the same as the S-Cabriolet and gets an extra dose of chrome.
On the equipment front, the S650 Cabriolet gets everything the S65 has – the warm air cushion when you drive with the top down, ventilated seats, the superb Burmester audio experience and the signature special leather seats woven with the internal fragrance system. You also get luggage bags quilted in the same leather as your car.
You can get the Maybach in three colour options – red with white with black interior, blue with white and brown interior and white with white and blue interior. Mercedes will build only 300 examples of the Maybach S650 Cabriolet to ensure its exclusivity.
For its price tag, the Maybach Cabriolet pits itself against the Rolls-Royce Dawn and the Bentley Continental GTC. While the Rolls-Royce is at the zenith of hand-built luxury cars, the Bentley packs supercar performance into its luxury cars. The Maybach Cabriolet might want to pose as the best of both worlds between the two.
.
source"cnbc"