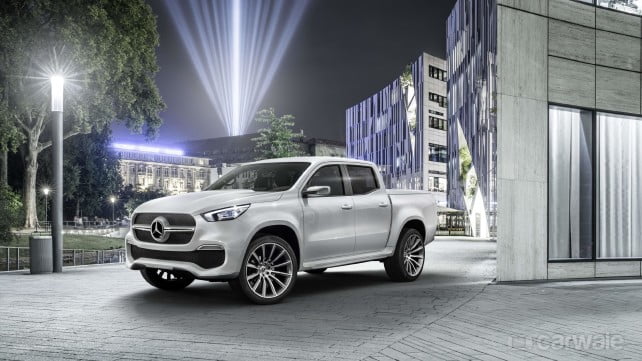 Mercedes has just unveiled what's possibly the world's first truly premium pick-up truck. Called the X-Class, this new creation is still in concept form although the German automaker has confirmed that the production-spec model will be out in Europe late next year.
Mercedes-Benz is the first luxury manufacturer to cater to the global segment of mid-size pickups. The X-Class will be a one-ton pickup with seating for up to five people. Daimler AG will make investments in the high nine figures (euro) in this new model series by the time of the launch. It will be launched in late 2017 with key markets including Argentina, Brazil, South Africa, Australia and Europe.
The concept is finished in metallic white and features flared front and rear wings, a wide track and large tyre/wheel combinations for off-road use. The running boards are integrated into the bodywork and raise the utility quotient.
Mercedes has revealed that the brand will develop a range of accessories for the pickup. These will include bed covers and various styling elements. Thanks to the modular strategy, a host of interior components from the C-Class and V-Class will be found in the X-Class. Drivetrain wise, the top-of-the-line model will be powered by a V6 diesel in combination with 4MATIC permanent all-wheel drive. The later will combine an electronic traction system, a transfer case with reduction gear, and two differential locks.
While they are nowhere to be seen in the Indian market, mid-size pickups currently have the largest share of the total vehicle market in Australia with 14.1 per cent. Argentina comes close behind with 11.6 per cent. In Brazil, mid-size pickups have a share of almost five per cent of the total vehicle market. Coming back to the X-Class, the official launch in Europe will be held in late 2017. The pickup will be manufactured in cooperation with the Renault-Nissan alliance. Production for the European, Australian and South African markets will start at the Nissan plant in Barcelona in 2017. The X-Class for the Latin American market will roll off the assembly lines at the Renault plant in Argentina, starting in 2018.
source"cnbc"