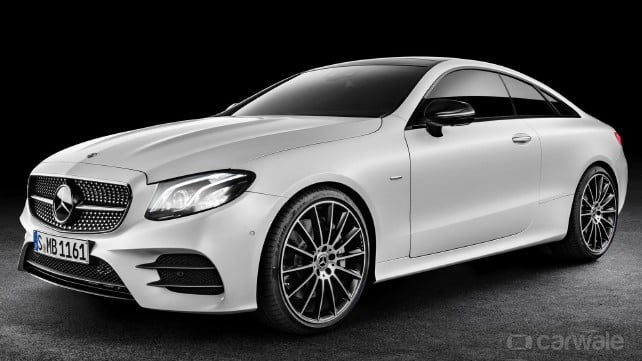 Mercedes-Benz has revealed its E-Class Coupe ahead of a Detroit debut early next year. The coupe is the fourth body style added to the current gen E-Class portfolio. It will make its way here after the current generation E-Class is launched in India. Mercedes-Benz has said that the new E-Class Coupe is a spiritual successor to the CLK which was in production between the year 1997 and 2009.
The two-door E-Class looks fantastic with the sloping roofline ending in a sleek rear tail, which is reminiscent of the bigger S-Coupe. Everything about the new E-Class Coupe is a toned down delineation of the S-Class Coupe. The new E-Coupe is slightly larger than its predecessor as it distinct itself from the C-Class Coupe owing to its larger dimensions.
The E-Coupe cabin is evocative of how Mercedes-Benz do its car's interiors. The massive 12.3-inch display dominates the centre of the dashboard as it merges with the instrument cluster. Beneath which are four turbine-inspired air vents, and a touchpad with handwriting recognition. The rest of the cabin is similar from a regular E-Class. The seats at the back are spacious and comfortable due to increased dimension, claims the manufacturer.
The E-Class Coupe gets three engine options. The E200d variant has the only diesel turbocharged 2.0-litre four-cylinder unit producing 191bhp and 400Nm. The 2.0-litre petrol engine is available in two states of tune – 181bhp and 300Nm or the 177bhp and 380Nm. The 3.0-litre V6 petrol engine is available with the top-of-the-line E400 4MATIC and produces 328bhp and 480Nm of torque. The 9G-TRONIC nine-speed automatic transmission is standard. This coupe is the first two-door E-Class to get a full-blown AMG treatment as well.
Mercedes-Benz is tight-lipped about the pricing, as yet. The car will be India bound only after the current generation E-Class sedan is launched in India, so we can expect the E-Coupe to land on our shores late next year followed by the Cabriolet. The E-Class Coupe rivals the likes of BMW 6 Series Coupé and Audi A5.
source"cnbc"