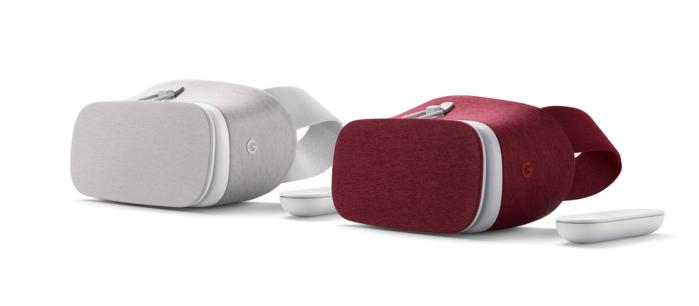 When we reviewed Google's Daydream View headset last month, we were enamored with the simple, affordable solution to virtual reality, but somewhat disappointed in the lack of content. Just a handful of games were available at launch, and while there were certainly some fun titles, it was missing a real killer app to showcase its full capabilities.
Barely a month after its release, Google is following through on its promise to build a full Daydream ecosystem. Along with two new colors of the fabric-wrapped headset (Crimson and Snow), a new crop of virtual-reality apps have launched in the Play Store, and whether you're a master builder, speed demon, or couch potato, you're sure to find something to get your attention:
Gunjack: End of Shift ($12.99): Developed exclusively for Daydream, the sequel to the popular VR shooter puts gamers in an epic sci-fi space shooter. As a turret operator, you'll be charged with destroying waves of attackers with special weapons and shields.
LEGO Brickheadz (Free): All of the fun of Legos without the pain of stepping on them, you can design your own blocky BrickHeadz characters and bring them to life in Lego's virtual world. You'll be able to unlock new characters and items as you go, as your imagination runs wild.
Wands ($5.99): As the title suggests, you can take on the role of a spell-casting Wielder set in an alternate 1880's London. Challenge other competitors to duels and build your library of spells as you traverse an immersive magical world.
Underworld Overlord ($4.99): Another Daydream exclusive, Underworld Overlord lets you experience the dark side of VR as you command a dungeon packed with monsters and treasures, and defend your realm from the good guys trying to take it back.
Layers of Fear ($9.99): Transport yourself into Victorian times as the popular first-person psychedelic horror game becomes a virtual experience that puts you deep in the mind of an insane painter. Uncover new terrors and you explore the deepest corners of his terrifying mansion.
NextVR (Free, requires subscription): Whether you want to watch courtside action or feel the music from center stage, Daydream's NextVR puts you right in the middle of the action. From NBA and NFL games to the Daytona 500 and Live Nation concerts, it'll be like you're experiencing it live even if you're miles away.
Need For Speed ($19.99): Strap yourself into the driver's seat of some of the fastest cars in the world as you zip down roads and hug curves like a drag racer. The full game won't be launching until later in the year, but the preview will let you see just how blinding it is to drive at such insane speeds.
HBO Now (Free, requires subscription): If you've ever wanted to take a trip to Westeros, the HBO Now Daydream app will plop you right in the middle of the War of the Five Kings. And you'll get access to all of your other favorites too, all presented on your giant virtual screen.
Why this matters: Google's new VR ecosystem delivers a really great mobile VR experience, but it's not going to go anywhere if it support doesn't materialize. That means more Daydream-ready phones, eventually other headsets, and lots and lots of apps and games. With the Moto Z and Moto Z Force now Daydream ready, and the apps starting to flow, it appears that Daydream is off to a good start. It's up to Google to keep the momentum going.
source"cnbc"