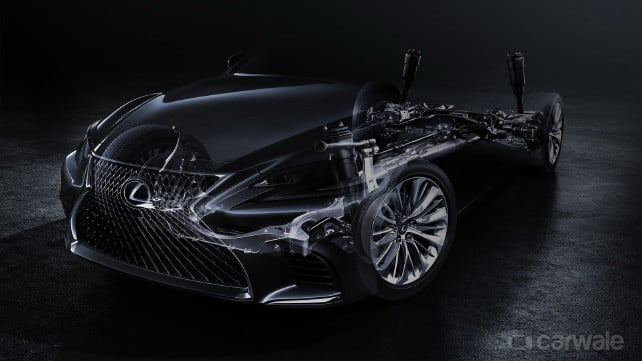 The LS is the flagship sedan of the Toyota-owned Lexus brand. The car is now stepping into its fifth generation which will be revealed at the 2017 Detroit Motor Show. Ahead of its global debut, Lexus has dropped a teaser of the LS which shows the underpinning, the flagship sedan would be based on.
The Japanese automaker's flagship sedan will employ Toyota's all-new platform called the Global Architecture-Luxury, or GA-L for short, and will be the base for the future front engine, rear,-wheel drive cars from the manufacturer. The platform currently underpins the Lexus LC500h.
The design of the new generation LS is expected to remain true to the LF-LC concept showcased by the Japanese manufacturer at the 2015 Tokyo Motor Show. Apart from the running gear, the teaser shows that the new LS would be wearing the brands familiar 'spindle grille' as the front fascia will be reminiscent of the fabulous LF-LC concept.
No further details are revealed by the manufacturer. But speculated to power this flagship is the same engine and gearbox carried forward from the Lexus LC500. So the V6 Hybrid powertrain or the 535bhp V8 petrol units are expected to be powering this luxury sedan. And it won't be surprising if Lexus works upon the LS to run on hydrogen fuel cell in the future as they have the required technology seen in the Toyota Mirai.
The next gen LS will be targeting the BMW 7 Series, Mercedes S-Class and Audi A8, so it will be evenly matched with these lavish barges in terms of features, safety and luxury. We'll have to wait for the Detroit debut on the 9th for further details on this car. As far as the Indian launch is concerned, the debut of the Lexus brand in India could hopefully bring the new LS on to the Indian shores.
The venue for unveiling the Lexus LS couldn't be more fitting than the North American International Auto Show (NAIAS). For 28 years ago, the first LS was unveiled at the very NAIAS. Which then marked the birth of the Lexus brand.
source"cnbc