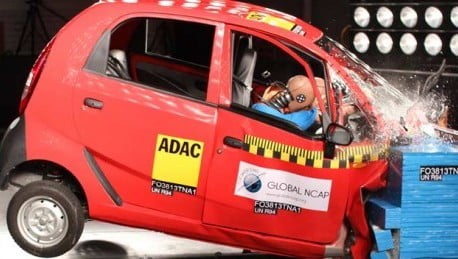 Due to the growing importance of safety parameters, India will see seven vehicle testing facilities which includes crash testing labs coming up in 2017. The facilities are built at a cost of Rs 3,700 crore will come up in Manesar, Bengaluru, Rai Bareli, Silchar, Indore, Pune and Chennai. The decision comes at a right time when car buyers are finally paying more attention to safety factor in cars.
The new facilities have been set up by National Automotive Testing and Research and Development Infrastructure Project (NATRIP). This will help in giving star ratings for vehicles based on passenger and pedestrian safety features. New models will have to mandatorily undergo frontal and side car crash tests by October 2017 and 2019 for the current models. Reports indicate that the government is also in the process of setting up Bharat National Car Assessment Programme (B-NCAP) on the lines of Global National Car Assessment Programme which will help in introducing European car safety features in India.
Cars in the country will earn five star rating only if they offer airbags, ABS and speed-warning systems as standard equipment. Given the rising number of fatal accidents in the country, the new mandatory safety parameters will help save lives. Along with helping customers in making right decisions, it will also encourage manufacturers to offer safety features as standard across their model range in the country.
Jeep reveals its retail strategy for India
Aug 31 2016 by Ninad Ambre
1622 View(s)
Be the first to comment
Fiat Chrysler Automobiles (FCA) recently entered the Indian market with their Jeep brand. Apart from launching a couple of products, they have revealed their retail strategy for the Indian market.
The Jeep vehicles will be sold through 10 upcoming distribution outlets called Jeep Destination Stores. The company plans to set up nine of these by the end of this year. These stores are similar to the brand's outlets worldwide. They are designed to be premium and have a high level of engagement with prospective buyers, existing customers and even visitors.
The first Jeep Destination store will be inaugurated soon in Ahmedabad. The next two will be opened next month, one in New Delhi and the other in Chennai. The Mumbai store will begin its operations in October, when another outlet will be opened in Delhi again. After Diwali, Jeep India will also open similar stores in Bengaluru, Chandigarh, Hyderabad and Kochi.
FCA's retail strategy aims at bringing their customers closer to the Jeep brand's virtues and product capabilities. As a part of this, they are focusing on providing the original Jeep experience to them. Jeep India's website already has toll-free numbers for customers to enquire about the products and information about bookings. In addition to the after-sales service for their customers, the brand will offer a two-year unlimited mileage manufacturer's warranty. This will be offered as standard across their Indian portfolio of cars.
Tags:
Jeep,Grand Cherokee,Jeep Grand Cherokee,Wrangler,Jeep Wrangler
Skoda Kodiaq cabin revealed ahead of official debut
Aug 31 2016 by Venkat Desirazu
15747 View(s)
Be the first to comment
Skoda has shared pictures of the cabin of its new Kodiaq ahead of the SUV's official debut on September 1. The photos reveal a seven-seater (a first for Skoda) cabin very similar to that of the Superb as well as the Octavia.
Standard Skoda elements like the instrument cluster, steering wheel as well as the touchscreen infotainment system are present here while the entire cabin has been trimmed out in a combination of grey and black. However, we believe that Skoda will also offer it in shades of beige as well as brown depending on the market. There are also chrome mouldings for most of the plastic surfaces as well as a blue strip running below the window line. The third row is foldable and can expand the boot space from 720 litres to 2,065 litres.
Standard features are expected to include climate control, Skoda Connect infotainment system.Also expected to be a part of the deal will be plethora of aids like cruise control, ESCproximity sensors and lane departure warning assist.
The Kodiaq was revealed as the Concept D last year and is the second SUV from the Czech automaker after the Yeti. When launched, it will slot in alongside the Superb and be offered as an alternate body style to the sedan.
This will be an important car for Skoda in the Indian market as it will fit in both with their plan to have a more premium oriented line up as well as to cater to the growing demand in India for crossovers/SUVs. Skoda has already announced that the car will arrive here in 2017 and we believe that they will locally assemble it to keep prices competitive.
Tags:
Skoda,Skoda Kodiaq,Kodiaq
Porsche 911 GT3 RS now in India
Aug 31 2016 by Sagar Bhanushali
2005 View(s)
Be the first to comment
Shown first during the 2015 Geneva Motor Show in March last year, the Porsche 911 GT3 RS has now being unveiled in India. This hard-core track-bred version of the already extreme 911 GT3 has arrived at the Porsche Centre Bengaluru.
Thanks to its revised drivetrain, aerodynamics and lightweight architecture, the new 911 GT3 RS has set a lap time of 7 minutes and 20 seconds on the North loop of the Nurburgring, beating the iconic Carrera GT by 9 seconds.
The GT3 RS is powered by a bespoke 4-litre, flat-six engine developing 500bhp and 480Nm of torque. It's mated to a 7-speed PDK gearbox powering the rear wheels. Now despite being a rear drive car, the RS can accelerate from 0-100kmph in 3.3 seconds and hit 200kmph in 10.9 seconds. The rear engine layout certainly helps with traction off the line there.
The 911 GT3 RS comes with a magnesium roof and carbon fibre engine and luggage compartment lids. This makes the RS model around 10 kilograms lighter than the 911 GT3. In addition, the lightweight roof lowers the car's centre of gravity. The body comes from the 911 Turbo, and it signifies the model's status as the closest road-legal race car with its RS-specific aerodynamic add-on bits like the front spoiler lip and the large rear wing. Another characteristic is the unique front wheel arch air vents that extend into the upper section of the wings – they increase downforce at the front axle.
The 911 GT3 RS sits at the top of the 911 range and represents the best of what Porsche offers for those who are into track days and circuit driving.
Tags:
Porsche,Porsche 911,911,911 GT3 RS
Citroen's hybrid concept hatch with A6 dimensions
Aug 31 2016 by Santosh Nair
543 View(s)
Be the first to comment
Citroen has decided to raise a few eyebrows by showcasing the CXperience concept before its slated debut at the upcoming Paris auto show.
This vehicle depicts Citroen's vision of a futuristic and spectacular body in a long and low hatchback that has the proportions of an Audi A6. We admit that the CXperience is a true exhibition of bold futuristic style that borderlines on looking weird to an extent. It's[v21]  visually imposing dimensions are further accentuated by the massive five spoke 22-inch wheels stretched to all the corners of the car revealing its generous three metre wheelbase. Snazzy looking rear-hinged doors can be seen providing quick and easy access to the cabin.
Citroen has given the CXperience a uniquely designed spacious interior that highlights the bold shade of citrus yellow. In addition to this is a generous amount of walnut wood trim that can be seen on the console, door panels and seatbacks. Citroen has also gone to the extent of equipping the concept with their legendary single-spoke steering wheel (inspired by the Citroen classic DS). Also occupying prominent space is a huge 19-inch rectangular dashboard mounted display that can be configured to be used as a single screen or to show separate displays for both the driver and the front passenger.
Powering this concept is a plug-in hybrid powertrain that comprises of a petrol motor which makes 150bhp to 200bhp, and an electric motor that adds an extra 107bhp. This 300bhp powertrain works closely with a transversallymounted eight-speed automatic transmission placed between the petrol engine and the electric motor. Citroen claims that while the battery can be recharged from a conventional socket in just over fourhours, it can drive on pure electric power for 60km.
Stay tuned to CarWale for more on this concept in the months to come.
Tags:
Citroen CXperience concept,Paris Auto Show 2016
Maruti Suzuki Swift Deca limited Edition priced at Rs 5.40 lakh
Aug 30 2016 by Venkat Desirazu
6688 View(s)
Be the first to comment
Maruti Suzuki has launched a limited edition called the Swift Deca. It is available in the VXi/VDi variant and has been priced at Rs 5.4 lakh (Ex-showroom Delhi) for the petrol and Rs 6.32 lakh for the diesel. It is basically a cosmetic pack which commands an additional Rs 52,000 over the price of the VXi/VDi variants and will only be available for a limited period.
External changes include strips running the length of the body and the standard alloy wheel being painted in black. Also included in the package are No.10 side decals. Inside, the cabin has got dual tone upholstery, red ambient lighting, front arm rest, illuminated door sil plates and a Sony touchscreen music system with four speakers and reverse camera.
Powering this limited edition is the 1.2-litre K-Series petrol engine and the 1.3-litre Multijet diesel. The former produces 83bhp/115Nm of torque while the diesel engine produces 74bhp/190Nm. Both are only offered with a five-speed manual.
In the run up to festival season, it is a common practice by manufacturers to offer special editions to move more volumes as buyer sentiments are quite high at this point of time. The Maruti Suzuki Swift is a popular buy among those looking for something in the B-segment and this limited edition's luck should be no different.
Tags:
Maruti Suzuki,Swift,Maruti Suzuki Swift,Swift Windsong Limited edition VXI
source"gsmarena"