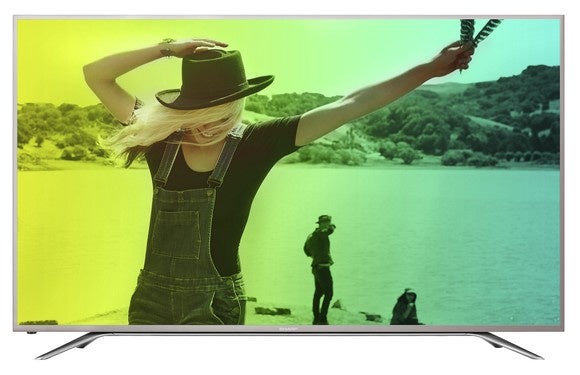 If you're looking for an affordable 4K UHD TV with the latest connectivity and better-than-average sound, Sharp's $800 55-inch class Aquos N7000 should be on your short list. The N7000 is even "HDR-enabled" (High Dynamic Range), meaning it can play HDR10 content, although it doesn't possess the display chops to take full advantage of that feature.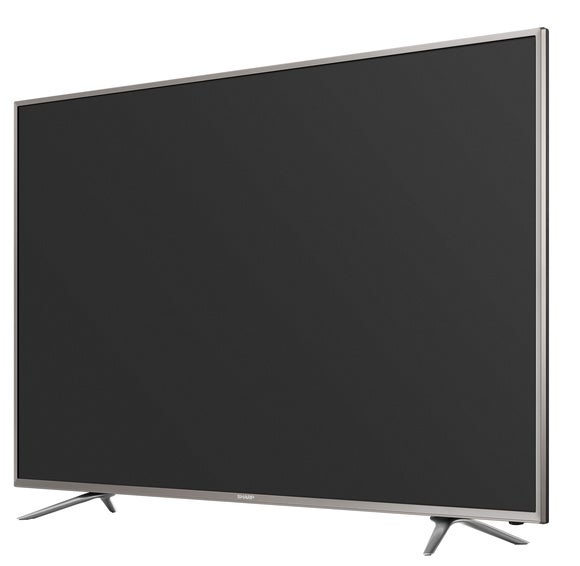 Specs and connectivity
The Aquos N7000 is a 54.6-inch display (55-inch class) that weighs about 48 pounds and is around 2.5-inches deep. It's not overly svelte, but it's easy enough to get out of the box and onto the wall. Add another 6.7 inches of depth if you use the stands. The panel's native resolution is 3840×2160 with a hardware refresh rate of 60Hz. I find it one of the more attractive lower-end TVs on the market, but I'm a sucker for pewter (right after copper), the color that's used on the bezel.
The N7000 sports four HDMI ports: two supporting the older 1.4 spe, and two offering up the 2.0a standard (via a recent firmware upgrade) that HDR-10 requires. ARC (Audio Return Channel) HDMI is provided for output to sound bars and A/V receivers. There are three USB ports, two 2.0 and one 3.0. Both keyboards and USB mass-storage devices are supported. Also on board are gigabit ethernet and 802.11ac Wi-Fi. Connectivity is rounded out by component inputs (the green may be used for composite signals), and an optical/analog audio input.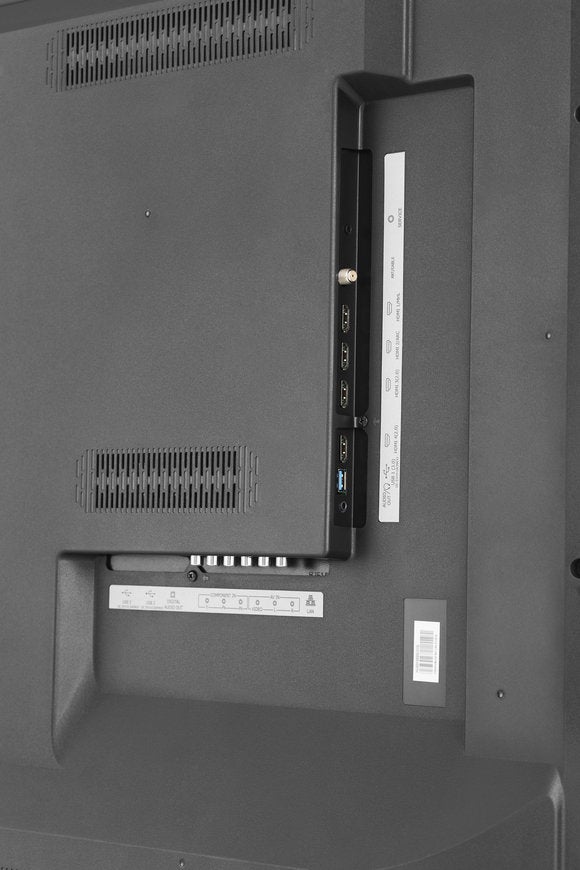 Remote and interface
The remote control for the N7000 is a take on the familiar, elongated type that's been in use for a more than a decade now. There are quite a few buttons, including the classic red/green/yellow/blue function types, but they are logically laid out and I had little difficulty getting up to speed with it. The on-screen interface appears on the left, and cursoring to the right brings up more granular picture settings. It's nicely rendered, easy to read, and the important picture settings are transparent so you can see the effect of the adjustment you're making.
There's also an app page which consists of two scrollable rows of large icons. The provided apps include Pandora, Vudu, Facebook, YouTube, and the other usual suspects. There are also native apps for displaying photos and video and playing music encoded in the most common formats, including the h.264 and h.265 60fps/2160p videos we use for testing motion. As a cord cutter, the only feature I really missed was a channel guide.
Picture and sound
The Aquos N7000's picture is quite good for its class, though it's far from state of the art. Overall, the color is about as good as you're going to get with any WLED (white light-emitting diode) backlight. It's a bit cold and it's skewed towards the blue end of the spectrum. But saturation is decent and the color accuracy, while not perfect, is as good as I've seen for WLED. The greens aren't annoyingly lime-y, and the reds aren't overly pink or orange. Detail, as you'd expect with UHD, is quite nice; and the 1080 upscaling is first rate. Picture uniformity (no blurry or dark areas) was exceptional on the 55-inch unit I tested.
The N7000's backlighting is edge, not array, which means the blacks aren't as dark as they could be. On the other hand, there's no blocking (visible borders where array LEDs are dimmed or shut off), and little blossoming (halos around bright objects on a black background). There was also only minimal bleed around the edges with a black image displayed.
There was some noticeable, if not aggravating stuttering during fast action sequences, which is to be expected with a 60Hz refresh rate. But a big shoutout to Sharp for advertising its Aquomotion smoothing technology without concocting a phony number or "effective" refresh rate to do so.
As I mentioned up front, the N7000 plays HDR-10 content, but it's in no way up to snuff in that regard—at least not when compared to Sony's X800/X900, Samsung's SUHDs, and LG's HDR sets. The maximum nits I saw from any portion of the screen was 415 and the panel is 8-bit, meaning it can't render some of the subtle details that HDR's 10- or 12-bit wide color gamut can provide. But within its capabilities, it handles HDR nicely, remapping colors intelligently with very mild upticks in contrast and vividness. To be fair, Sharp makes no great claims beyond being compatible with the content.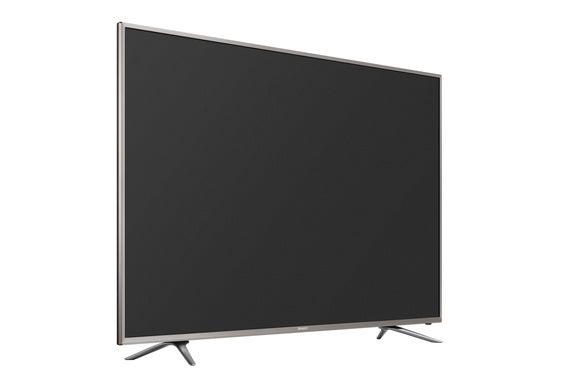 Sharp calls out the N7000's dbx-tv audio, and indeed, the sound emanating from the speakers is considerably better than average—especially if you reflect it off a hard surface, such as a wall, as most people will. We test our TVs with a curtain behind them for the most part, and the N7000 still delivered pretty fair results.
One nice little trick up the N7000's sleeve is "wallpaper" mode, or the ability to display images when not otherwise fully operational. It's a subtle way to show your guests vacation photos without subjecting them to a full-on sit down.
Buying advice
With the Aquos N7000, Sharp has done a good job marrying the latest connectivity, better-than-average audio, and HDR processing with low- to mid-range display technology. A 120Hz refresh rate would be nice, but this is a good TV for the price. It can't do HDR to anywhere near full effect, so don't buy it for that. Buy it because it's the TV you like best in its price range. The chances are very good that it might be.
["source -cncb"]