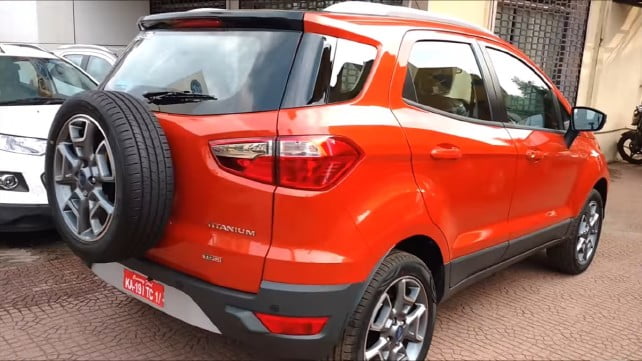 Ford will soon introduce new features on the existing model of the EcoSport. We have listed four of these top new features that a prospective buyer will get on the top-of-the-line Titanium option of the compact SUV.
Touch screen system
This is one feature that many EcoSport owners missed on their vehicle. Ford has now brought in an eight-inch touch screen display that is embedded on the top of the dashboard. This system alone will be able to cater the needs of music, DVD video playback, navigation and come paired to the reverse camera as well.
Cruise control
Ford seems to have taken inputs from their customer feedback and implemented the changes in this update. The updated Ford EcoSport will now get cruise control to maintain a constant speed without the use of the accelerator pedal. This feature can be used above 30kmph.
New alloy wheels
To add to the cosmetic appeal, Ford has also added a new set of alloy wheels with a funky pattern. These are shod with Apollo Alnac 4G tyres 205/50 R17 instead of the 16-inch wheels on the current one.
Black roof
The carmaker is already offering a black roof as an optional accessory through the dealerships. However, the soon-to-be-launched Titanium option version will get the black roof as standard.
Snapshots from Karthik's youtube video
Tags:
Ford,Ford EcoSport,EcoSport
source"cnbc"