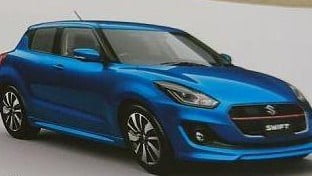 Maruti Suzuki has been on a roll with its new products over the last few years. The most successful of the current lot is the Baleno which has been on sale for a year and has finally opened up the premium segment for the Indo Japanese automaker. It will now update its most important product which we will see towards the middle of next year. It is none other than the Swift hatchback which will enter its third generation in India. Ahead of its expected debut, the Japanese car specification car has been leaked giving us an indication what we can expect for the Indian market. So here then are the top five things to expect in the new Swift.
New platform
This new generation will move to the same lightweight platform underpinning the Baleno making it lighter while retaining the same dimensions. However, it is expected to have a longer wheelbase making more space for the rear passengers, a common grouse in the current car.
New looks
In the looks department, this new car sports a familiar silhouette but has new design elements to bring the Swift moniker to the modern age. We also believe that the new car will have a bigger boot as compared to the outgoing model.
Automatic transmission
The Maruti Suzuki Swift in its current guise has never been offered with an automatic option. The cars in the automaker's lineup above and below the Swift have the option of a two pedal setup but it has never been offered with the Swift. The Japanese spec model will now get the option of a CVT in the budget variants while the RS models are powered by a six-speed AT which can be had with 2WD/AWD. However, for the Indian market, in a bid to keep costs down, it is expected that the new Swift will be offered with the automated manual transmission across both petrol and diesel engines.
Hybrid setup and RS
When the new Swift does come to India next, we can be sure that at least one midl hybrid model will be offered. With Indian car buyers getting eco-conscious, it seems like a good time for Suzuki to introduce the model in the market. In addition to this mild hybrid setup, we also believe that Maruti Suzuki will offer the new Swift with an RS option, to give buyers the option of something sporty in this part of the market.
Touchscreen infotainment system
One of the features that the current Swift lacks is the option of a touchscreen infotainment system. It has now been added to the feature list of the new car and will be offered for the Indian market when the car comes here. It will support Android Auto/Apple Car Play and most probably have a locally sourced map software
source"cnbc"