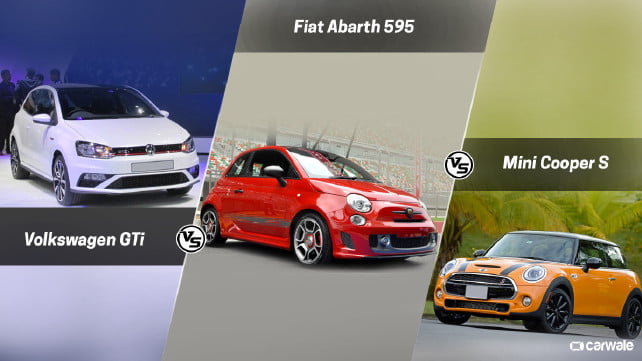 Hot hatches! A term that would get any auto enthusiast excited is now a reality in India. Our spec comparo here involves three larger than life vehicles from various parts of the big continent. Only these aren't exactly very big in size. Each one embodies the things that their home nation is famous for. From Italy we have the swanky looking Fiat 595 Abarth Competizione while from the 'Mother Land' we have the Mini Cooper in the top-spec S format. Finally, from the founding fathers of the hot hatch concept, we have the latest entrant in the Indian market, the Volkswagen GTI. Let's find out how they compare on paper…
Exterior
For starters, these are all hot hatches. Meaning, besides big horsepower, they have bigger, fancier wheels, some additional and sporty bodywork, and these only come with three doors. The 595's Italian origins means it's the funkiest looking while the GTI is bit more sober. The original Alec Issigonis designed Mini was quite diminutive in its size and was for the British in the 1960s what the original M800 was for us in the early 1980s. However, the new Mini, since its debut in 1998, has grown considerably in size and now sports luxuries, multi-colour paint schemes and has now become a life style product. This has let it develop its own style and carve out a niche in the hot hatch market.
Features
Given their price and positioning, all three cars have their basics sorted. So, they come with infotainment system, climate control, sporty seats as well as swathes of leather and high quality plastic as standard. They also share a common trait of being driver oriented, a phenomenon where the space in the back is best suited for bags, kids or really short journeys for adults. In terms of safety features, the GTI scores the highest thanks to its six airbags, while ESP, ABS and hill start function is standard on all three cars. In terms of outright design, the Fiat does look the most stylish while the GTI does manage to hold its own thanks to the tartan seat upholstery which pays tribute to the design of the original car.
Performance
The 595 makes use of the 1.4-litre T-Jet engine that produces 158bhp/230Nm of torque while the GTI is powered by a 1.8-litre turbocharged mill producing 189bhp/250Nm. Finally the Mini is offered with a 2.0-litre petrol motor that produces 189bhp/280Nm of torque. The Abarth gets a five-speed AMT while the Polo's engine is mated to a seven-speed DSG. The Mini meanwhile comes with a six-speed AT. In terms of numbers, the Mini Cooper is the fastest in the 0-100kmph sprint with a time of 6.7 seconds while the GTI comes in second with 7.2 seconds. The Abarth 595 is not far behind with a time of 7.4 seconds.
Pricing (ex-showroom Delhi)
The Volkswagen GTI, which is the new kid on the block, is priced at Rs 25.99 lakh while the Fiat 595 is priced at Rs 29.85 lakh. The Mini Cooper S is the most expensive and is priced at Rs 31.50 lakh
source"cnbc"