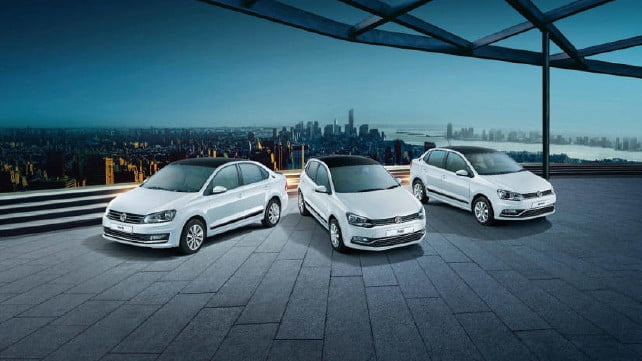 Further widening customisation options to potential Volkswagen customers, the automaker in India has introduced the limited Edition 'Crest Collection' in the Ameo, Vento and Polo models. The package offers an interesting set of interior and exterior upgrades for customers who expect more plush features. For those interested, Volkswagen is offering the Crest Collection across all Ameo variants, whereas Polo gets it only in Comfortline and Highline variants, and the Vento gets it only on Highline variant.
The vehicles do not get any mechanical changes and upgrades are limited to cosmetic and feature detailing. As for exterior, the package offers a matte black roof on a white exterior colour, detachable sunroof blinds and a side foil. The interior gets more appealing with beige leather seat covers with diamond stitching, anti-slip floor mats, front centre armrest with storage space and door step garnish for scratch protection. The Crest badge on the exterior and on the seats dates back to 1945, where every car under the collection was bestowed with the 'Crest' badge. The badge is Wolfsburg's pride as it depicts a castle and the Aller River with the mighty red wolf standing between the castle's twin turrets. Moreover, the Crest was the first badge of the original Beetle manufactured post 1945 in Wolfsburg, Germany.
Speaking about the Crest Collection, Volkswagen Passenger Cars India, Director, Michael Mayer said, "Keeping our customers at the heart of everything that we do at Volkswagen, the Crest Collection is sure to resonate with those who are looking for added style from our existing portfolio. We are delighted to introduce the Crest Collection, offering a glimpse of our global tradition in India, especially for the buyers of the Made-in-India Made-for-India Ameo. We will continue to evolve and innovate on our existing portfolio, giving our customers the power of choice."
As for pricing, interested customers for the Crest collection will have to shell out an additional Rs 16,000 on Polo, Rs 21,000 on Ameo Highline and Rs 25,000 on Ameo's Trendline and Comfortline trims. As for Vento Highline customers, they will only have to pay around Rs 3,000 extra over its current pricing.
 source"cnbc"