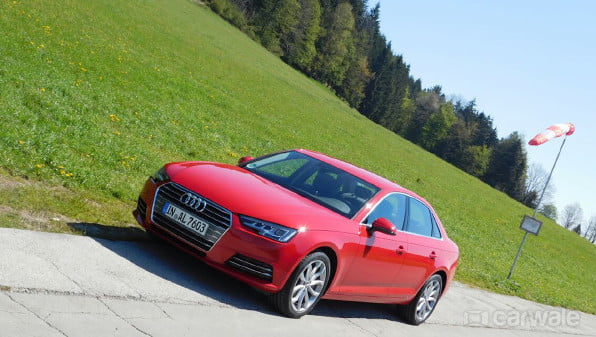 The 2017 Audi A4, when launched later this year, will be offered with the 1.4-litre TFSI engine. The German automaker has imported multiple units of the sedan ahead of its official arrival. This engine, dubbed 30 TFSI will produce 147bhp and 250Nm of torque and will be offered with the seven-speed S tronic automatic transmission.
The move comes as a surprise as we were expecting them to bring the A4 with its new 2.0-litre TFSI that produces 188bhp and 320Nm of torque. This engine has replaced the 1.8-litre TFSI across the VW umbrella and it seems possible that they working on implementing the update for both Skoda and Audi models both of which are produced at the same factory in Aurangabad. We can expect them to launch the A4 2.0-litre variant sometime in 2017.
In addition to these petrol models, the A4 will later on also be offered with a 2.0-litre diesel engine that produces 150bhp/320Nm of torque. The only transmission option will be a seven-speed S Tronic transmission.
This will be the fifth generation for the German automaker's sedan. Derived from the Audi 80 model and for a long time Audi's entry-level model, this is now the mid-level sedan and slots into their hierarchy above the A3 sedan. It is expected to be priced in the range of Rs 32 lakh to Rs 41 lakh. We have already driven the car and here is the first drive review
["source -cncb"]