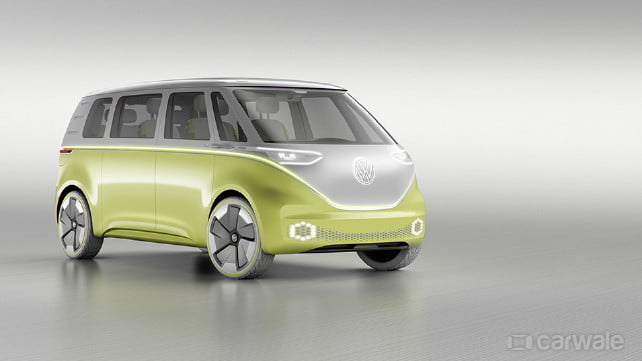 Volkswagen has revealed the second model of its five-vehicle line-up under the I.D. moniker. Following the four-seater hatch from the 2016 Paris Motor Show, the concept showcased at the ongoing Detroit Motor Show is called the I.D. Buzz and is a 'Microbus' of the future.
Reminiscent of the iconic Microbus, the I.D. Buzz takes retro cues such as large Volkswagen logo up front, dual tone exterior paint scheme, three seating rows, vents at rear three-quarters. Moving beyond which everything about the I.D. Buzz is futuristic. The sleek LED headlamps and tail lamps are a characteristic design of the I.D. family as it was seen on the first I.D. as well. The large wheelbase of 3.3m with little overhangs and a boxy design makes way for a roomy cabin which is versatile and customisable.
The eight-seater cabin gets augmented reality heads-up display, touch-capacitive surfaces, ambient lighting, panoramic roof, and an enormous infotainment screen. The seating position is flexible with the third row turning into a bed, the second row can be turned into a table whereas the front row seats swivel 180degrees.
Based on the Volkswagen's Modular Electric Drive Kit (MED) platform, which is specially developed for future EVs, the Buzz is powered by two electric motors at an axle each. Powering the motors is a large 111kWh battery pack stored under the wooden floor of the vehicle and makes a combined output of 369bhp. Volkswagen claims that it is sufficient for a 0-100kmph sprint in an impressive 5 seconds, but the top speed is restricted to 160kmph to conserve the charge. The range is claimed to be between 400 and 600km depending upon the cycle, meanwhile, the battery can be charged to 80 per cent in around 30 minutes. The I.D. Buzz could also be configured as a two-wheel-drive with a 268bhp electric motor on the rear axle.
The I.D. Buzz is also fully autonomous, so at a simple tap will retract the unconventional steering into the dashboard making more interior space. Once in the I.D. Pilot mode, the car employs laser scanners, ultrasonic sensors, radar sensors, side view cameras and a front camera to monitor the surroundings giving the I.D. Buzz its full autonomous credentials. This self-driving tech will be actually on the roads by the year 2025, claims the manufacturer.
As a move to get away from the diesel gate, Volkswagen intends to introduce no less than 30 electric vehicles by the year 2025. The I.D. family which includes a hatchback, crossover, luxury sedan, a sports car, and an MPV is a part of this venture, two of which have been unveiled already.
source"cnbc"