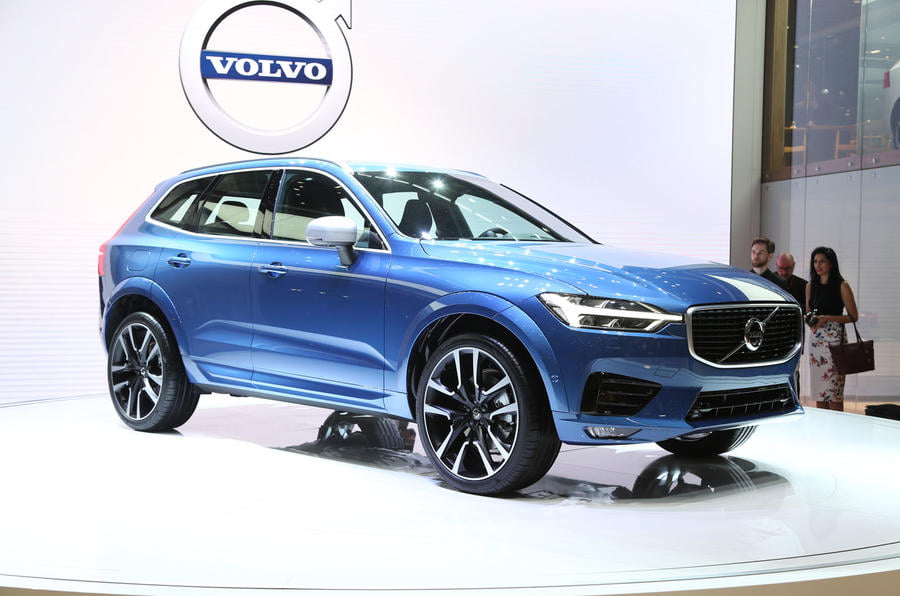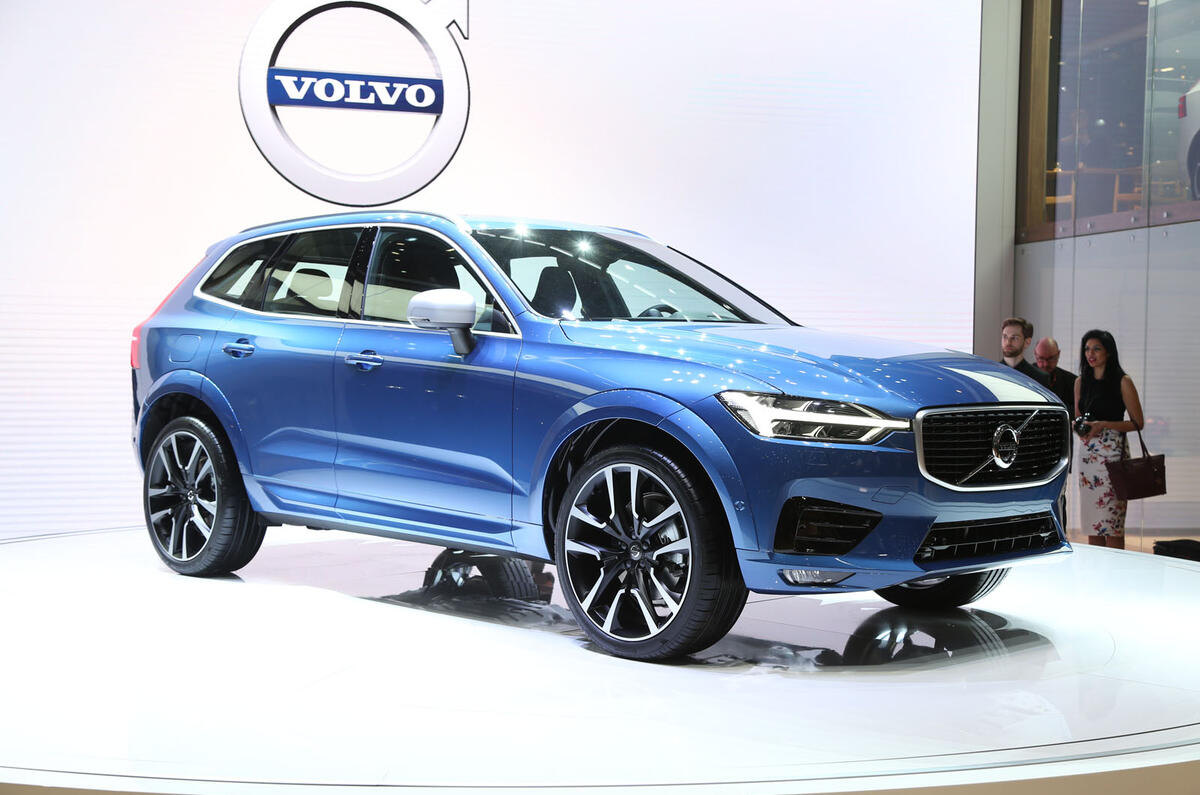 The new Volvo XC60 starts from £37,205 in entry-level D4 AWD Momentum spec; a £4270 rise over the outgoing entry-level version of the model. Maxing out the range at £45,600 is the 250bhp D5 PowerPulse AWD R-Design Pro spec.
Prices have risen by some margin- over £4000 – but Volvo hopes to gain an edge by offering a greater amount of standard kit, and the availability of a semi-autonomous system for low speeds. Sportier R-Design models are expected to dominate UK sales ahead of the Momentum and Inscription trims. Standard equipment includes a 9" infotainment touchscreen, sat-nav, leather upholstery, LED headlights and power-operated boot lid.
The price reflects that of rivals; the Audi Q5 undercuts the Volvo by just £35 at £37,170, and both come with all-wheel drive as standard. Volvo's range has been revised for rationality, so now the XC60 is available with three 2.0-litre, four-cylinder engines, two diesel and one petrol; in three specs, Momentum, R-Design and Inscription, with Pro specs on each adding more equipment for £4000 on R-Design, £3700 on Inscription and £1800 on Momentum cars.
First deliveries are expected to take place in the third quarter of the year, with the D4 AWD R-Design expected to be the biggest-selling model, with R-Design spec across the range expected to take up 40% of sales, and cars equipped with the D4 engine are expected to take 50% of sales.
Smartphone integration, which incorporates Apple Carplay and Android Auto, and the Xenium pack – adding a powered panoramic sunroof, a surround view parking camera, and Park Assist Pilot are expected to be the most popular options.
Geneva motor show launch
The launch of the second-generation Volvo XC60 at Geneva will further accelerate the firm's dramatic sales growth, with the all-new car set to be pitched against the Audi Q5, BMW X3, Jaguar F-Pace and Mercedes-Benz GLC in the booming mid-size SUV sector.
Volvo sales have risen for the past three years, with the growth led by the popularity of the XC90, S90 and V90. Combined sales of the 90-series models grew 125% last year compared with 2015.
However, the outgoing XC60, which was launched in 2008, hinted at the potential appeal of the new model by setting a new sales record in 2016, accounting for 161,092 units of Volvo's 534,332 total annual sales.
The new XC60 sits on Volvo's SPA large car platform, which will underpin all of the firm's 60 and 90 models, including the all-new S60 saloon and V60 estate that are expected early next year. The move to the new platform has allowed Volvo to make the new SUV longer, lower and wider than its predecessor, without adding weight.
It is 4690mm long (up 62mm on the current car), has a 2865mm wheelbase (up 91mm), 1902mm wide (up 12mm) and 1658mm high (down 14mm). At the same time, practicality has been increased with more cabin space, especially in the second row of seats, and a greater ground clearance engineered, while the design retains a more dynamic, 'cab-back' look.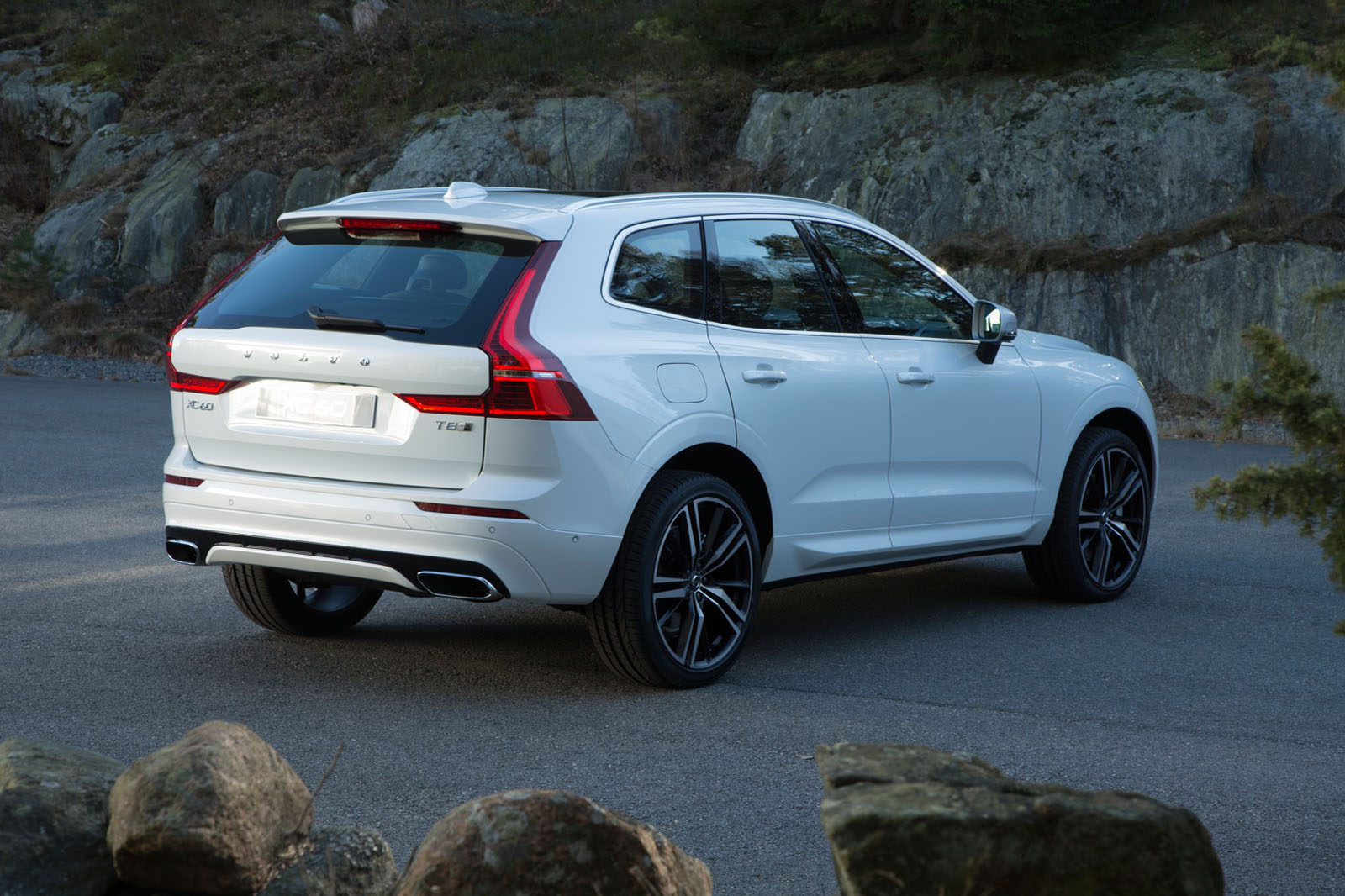 The XC60 will go on sale following this week's Geneva show reveal, with deliveries expected from September. At launch, it will be offered with the familiar 187bhp D4 and 232bhp D5 2.0 diesels, plus the 251bhp T5 2.0 petrol and 401bhp T8 petrol-electric hybrid unit. Few performance figures have been revealed beyond the T8's 0-62mph time of 5.3sec.
All launch, models will be four-wheel drive and linked to an eight-speed automatic gearbox. Manual and front-wheel drive models will arrive later, as well as new diesel and petrol engines and possibly an economy-focused three-cylinder petrol-electric hybrid.
In an effort to enhance both the dynamic set-up and noise and vibration isolation, the XC60 has double-wishbone front suspension and a rear multi-link arrangement. Height-adjustable air suspension will be offered as an option, offering an additional 60mm of travel up and down.
Inside, the XC60 is heavily inspired by the XC90's award winning cabin, with all versions getting the same 9-inch central digital control screen and all but entry-level Momentum models having a 12.3in digital instrument dash display. The infotainment controls have also been updated, to offer greater clarity and ease of use; these changes will also be applied to the XC90 later this year, and may be retrospectively updated on cars fitted with the system.
The cabin also has a large, sculpted central dash cowling, which will be offered in several designs of metal or wood finish, and several clever storage solutions, including laptop storage under the rear seats.
This being a Volvo, there is also a suite of safety and self-driving equipment, both standard and optional. Standard kit includes automatic braking if the car senses a potential collision up to 37mph and steering support if the car detects either a head-on collision or any imminent accident. Optional systems that can hold the car in lane while keeping a safe distance from other vehicles up to 80mph, monitor traffic as you come out of junctions and brake the car if necessary or detect an imminent rear impact and pre-tension the seat belts in preparation are also available.
Volvo's senior vice president for design Thomas Ingenlath said "We designed an entire new interior for the XC60 based on the foundation of driftwood, with suggests forward motion and is part of the integral design of the interior.
"What makes Volvos new interior so outstanding is the blend of architecture which shows Scandavinan prowess at its heart. The XC60 is not an SUV to look down upon others.
"It is energetic and well trained, this is not a bodybuilder, this is an athlete. The XC60 extends the horizontal lights into a baseline. Finally the rear gets interlocked with a solid metal belt, this is the golden piece that gives a reassuring feel at the back."
Q+A Thomas Ingenlath, Senior Vice President of Design, Volvo
How does the new XC60 fit with the standard set by the XC90?
"The XC90 sits much higher and, for some people, feels too big. The XC60 tapers in up the cabin, making it more focused on the people in it, and making the cabin less cavernous. The XC60 is an SUV that has no pretensions to leave you looking down on other road users; you sit in it, not above everyone. It's a personal car you can drive without feeling like you are in a big chunk of sheet metal."
The new XC60 doesn't look like it has made the same kind of leap as the old XC90 to the current one. Would you agree?
"Yes. But it didn't need to – the XC60 has been constantly improved throughout its life, and has sold more units in every year it has been on sale. Customers have been happy with what we are offering, so there was no need for a revolution. It was about what we could add, from materials to space to weight. Everything is about improving a concept that is already winning."
How did the customer clinics go for XC60?
"I don't even remember, I guess because the feedback was good. Customer clinics can be hard. For the XC90 we had some hard times. The best bit about them was the executive committee stayed strong and stuck to what it believed in. This time I don't remember anything from them."
You've used some new interior materials, such as new wood finishes and leathers. Why?
"Some of the wood materials are a big step forward. There's a driftwood option that captures a real worn, faded wood that is full of character. We have used these materials sparingly but in the right places, such as on the dash where it is always visible. You can't cover a car such as this in wood – you must build to a budget. But we've used the best materials in all the right places. It's very Volvo. It's very sophisticated. The maroon brown leather is also stunning; as technology moves on, we can do some really exciting stuff."
Is leather still the de facto premium material?
"Leather is a self-fulfilling prophecy, but I hope we can break that. It's the premium choice because we've told ourselves that is the case. Once high gloss wood was the only material customers wanted, but now a matt finish is acceptable. It's about making alternative materials of acceptable quality and then winning customer acceptance. Our woods are really special; I like that there are some very high quality wools coming onto the market; it could be interesting. I'm also intrigued by how sportswear has become top-end fashion. There's a Prada sportswear range now; using modern fabrics and plastics you can have durable and breathable materials that can be grained with modern structures. It could be another route."
[Source:- Autocar]