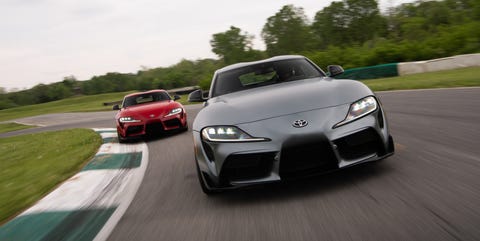 Tetsuya Tada, the 2020 Toyota Supra's chief engineer, can be cagey. He shrewdly avoids being nailed down about the range of the car's electrically assisted variable-ratio steering rack or its engine's peak boost. He won't say if this Supra is quicker around a track than the Porsche 718 Cayman S, which was its primary development benchmark. And he tells a cautious story about the relationship with BMW that allowed this iconic Toyota sports car to exist again, 21 years after the death of the Mark IV Supra.
That the fifth-generation Supra is a proper sports car, however, lies in clear relief against the uncertainty of a few details. We drove the car at Summit Point Motorsports Park's Shenandoah Circuit in West Virginia, asking much of its chassis, brakes, and powertrain over a day of merciless lapping. Those laps reveal that battles were won by the right people during development and that Toyota is once again taking the sports car seriously. Spoiler alert: This review will not mention popular, if dreadful, movie franchises or aging, overweight Toyota inline-six engines.
A Controversial Union
This Supra's rollout has been shrouded in a cloud of perceived compromise by internet philosophers since it was announced that it would share its platform with BMW's Z4convertibles. The Supra loyal weren't shy in expressing their indignation about the union, claiming that a Supra without a manual transmission—gasp!—could never be a true Supra and that a co-developed car was destined to be viewed by history as nothing more than badge engineering.
They weren't completely wrong. Viewed with the knowledge that the Supra uses a BMW engine and that its transmission, dampers, and steering rack are shared with the Z4, Tada-san's claim that its fundamentals weren't just thrust upon Toyota is harder to believe. Still, BMW's turbocharged 3.0-liter B58 inline-six produces 335 horsepower and 365 lb-ft of torque and is undeniably well suited to the Supra, especially when paired with ZF's eight-speed automatic, the only available transmission. According to Tada-san, the inline-six, which he considers a no-compromise item for any Supra, is the reason Toyota agreed to the BMW partnership. (However, there also is a four-cylinder Supra variant that may make its way to the United States.) An electronically controlled limited-slip differential with the ability to vary lock from zero to 100 percent is part of the program. And, of course, the Supra uses BMW's front strut and rear multilink suspensions. Picking a partner in car building is a lot like picking a partner in life. And Toyota could have done far worse than BMW.
A Driving Tool
Viewed through the lens of modern sports cars, the Supra's all-steel structure appears exactly as it is: dated. And speaking of viewing, don't plan on doing much of it through the coupe's tiny rear quarter-windows. Lane changes are a mirror-reliant endeavor. Also, consider that the Supra's body is more than three inches wider than the Toyota 86's, yet it offers less shoulder room and feels substantially smaller inside. But there's subtlety at work in the compromise. The modest interior space—the long of torso will graze the headliner when wearing a helmet—was a decision made to yield the desired structural stiffness. Much of the Supra's structural reinforcement comes from its floor. Wide sills hurt ingress and egress, yet help make the Supra's chassis more than twice as rigid as the 86's.
That stiffness matters on the track, where we squared up a curb under heavy braking and bottomed the Supra's right-front suspension. Adaptive dampers helped muffle the blow, which should have handily reshaped our corner entry, not to mention the wheel. Instead, there was just the noise of the impact. The Supra is all fast twitches in tight corners, able to wrench itself into the driver's chosen path and erupt out of bends like a manic terrier. Tada-san claims it's the shortest-wheelbase, widest-track production car in the world. We say the Supra's abbreviated footprint yields a superb willingness to pivot.
A fat slab of torque doesn't hurt the corner-exit cause, and shifts are often accompanied by a squirm from the rear end as the tires search for grip. Peaking at 1600 rpm, the B58's 365 lb-ft of torque lands with a big shove even if you're in a gear too high. It's a good reason not to be too upset that the transmission occasionally rejects ambitious downshift requests. And the engine cheerfully buries the tach needle into the yellow zone, making usable power until nearly 7000 rpm. Shifts arrive with virtually no power interruption to the wheels, occur on command, and are slurred together with a familiar BMW-like burble from the exhaust, similar to the snarls emitted on overrun.
The steering slathers the rest of the experience in glory: accurate, well weighted, and quick enough to keep up with the directional schizophrenia that is a Supra on a tight racetrack. It pairs mightily with a brake pedal that refused to quit despite our best efforts to abuse the stoppers into submission. Still, we've heaped similar praise on Porsche's Cayman S and BMW's M2 Competition, which are the Supra's most obvious competitors. And no verdict on the Supra's dynamics is complete until it's measured in the company of its contemporaries.
Breaking the Toyota Mold
Perhaps the biggest accomplishment isn't the dynamic potency of the Supra itself, but rather that it comes from both Toyota and—in undeniable ways—BMW, two companies known for their reluctance to play liability roulette. With its stability control disabled, the Supra will rotate under braking and aim readily through a corner. Powerslides are as easy as falling in love, the staggered Michelin Pilot Super Sport tires breaking away as predictably as they return. And if you're one of those who delights in left-foot braking, you're in luck. Brake/throttle overlap—a scenario with which Toyota has a sensitive history—is also permitted. The blessing is that, if a driver possesses these skills, they're allowed to use them.
Toyota, mercifully, didn't go berserk with the Supra's drive modes. There are two—Normal and Sport. Selecting Sport toggles the throttle, transmission, steering, exhaust, dampers, and limited-slip differential into settings better suited for aggressive driving, and it can be customized to a driver's preference. Traction mode, an intermediate stability-control setting, loosens the reins but doesn't punish a driver who pushes its very reasonable limits. And then there's launch control, which we tried several times to activate yet only did so once. Toyota claims a 4.1-second zero-to-60-mph time.
Inside, Germany persists. All of the Supra's secondary controls, from its shifter to its infotainment system, are familiar BMW fare. Also, there are only two seats and a modest cargo hold, a Supra first. Full leather upholstery starts with the 3.0 Premium trim level. The base Supra 3.0 starts at $50,920 and comes with all the performance hardware except marginally larger rear brake rotors, which are available on the $54,920 3.0 Premium and the $56,180 Launch Edition. Sales start in July.
That the Supra lacks the genetic purity its disciples might prefer is clear, but genealogy is far less important than creating a driving tool capable of fully immersing its pilot in the experience. And that's what Toyota has done with the Supra.
Specifications
2020 Toyota Supra
VEHICLE TYPE
front engine, rear-wheel-drive, 2-passenger, 2-door coupe
BASE PRICE
$50,920
ENGINE TYPE
turbocharged and intercooled DOHC inline-6, aluminum block and head, direct fuel injection
Displacement
183 cu in, 2998 cc
Power
335 hp @ 6500 rpm
Torque
365 lb-ft @ 1600 rpm
TRANSMISSION
8-speed automatic with manual shifting mode
DIMENSIONS
Wheelbase: 97.2 in
Length: 172.5 in
Width: 73.0 in
Height: 50. in
Passenger volume: 51 cu ft
Cargo volume: 10 cu ft
Curb weight (C/D est): 3400 lb
PERFORMANCE (C/D EST)
Zero to 60 mph: 4.1 sec
Zero to 100 mph: 9.0 sec
Standing ¼-mile: 12.5 sec
Top speed: 155 mph
EPA FUEL ECONOMY (C/D EST)
Combined/city/highway: 26/24/31 mpg
["source=caranddriver"]