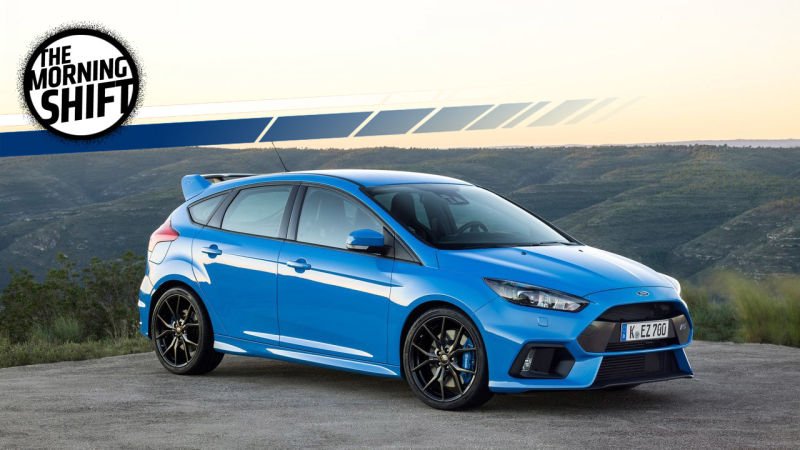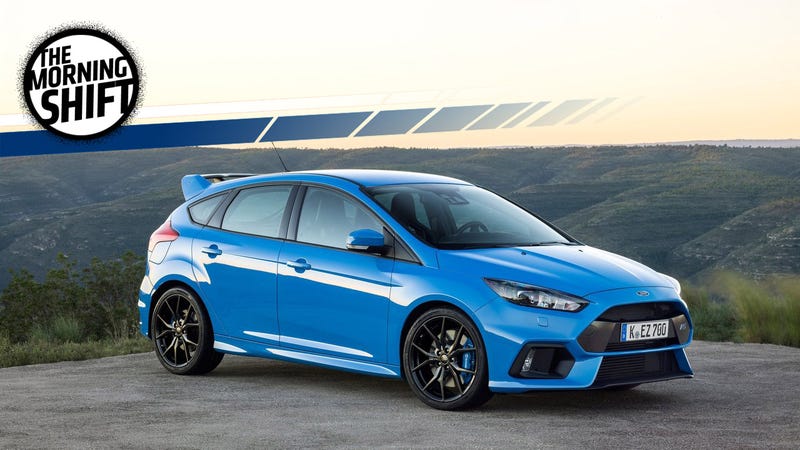 Good morning! Welcome to The Morning Shift, your roundup of the auto news you crave, all in one place every weekday morning. Here are the important stories you need to know to help soothe the night terrors that come a-knocking when the moon is full and the crickets have ceased their humming and the air is still.
1st Gear: Not All Hope Lost
You may or may not have heard from this website that new cars sales are dominated by snooze-inducing SUVs and crossovers. But they aren't the only things that are bringing in cash for automakers, er, I mean selling.
Turns out, the cars that us nerds love are actually doing quite well, according to The Detroit News. Cars like hot hatches and muscle cars. From the story:
Through the first four months of 2017, U.S. passenger car sales have dropped 11.4 percent year-to-date, according to Autodata Corp. But Ford says combined sales of its sporty Focus ST and Focus RS models jumped 25 percent in that same time period. The automaker is also seeing a boost from the Fusion Sport, which went on sale in 2016.

Fiat Chrysler, meanwhile, saw sales of its "ultra high-performance" cars, like the Dodge Challenger SRT Hellcat and Charger SRT Hellcat, increase 4 percent in 2016. But the company has also seen car sales drop drastically through the first four months of the year.
This, paired with the fact that small sports cars are also selling very well, is great news! It means that not all buyers out there are conformist crossover drones.
Of course, sales of the Focus ST, RS and the Hellcats aren't going to rake in tons of cash for the automakers. But it gives them a reason to keep making the fun stuff.
2nd Gear: No More 10-Speed Dual-Clutch, Sorry
Some time ago, in the long-lost year of 2013, then-CEO of Volkswagen Martin Winterkorn said something about implementing a 10-speed dual-clutch transmission. You can keep your eight- and nine-speed automatics. Volkswagen would have us getting those fingers working, downshifting seven gears into a corner.
Well, like many other Volkswagen dreams as of late, this one is dead, too, according to Automotive News Europe. Powertrain chief Friedrich Eichler told the publication: "Two months ago, I had the prototype crushed."
Monster.
The transmission was intended for high-torque engines. Like in a powerful sports car or performance diesel. Volkswagen, for reasons unknown to all, isn't really about the whole "diesels" thing anymore and is instead focusing on the whole EV thing.
Wonder why.
3rd Gear: New York Is Working Out Great, Thanks
In 2015, Cadillac up and moved its headquarters from Detroit to trendy and posh New York City. For years, Cadillac meandered behind its German competitors on an uncertain brand image and sales figures. The move was supposed to represent a concentrated effort to finally break away from the General Motors image and establish itself as a separate luxury brand once and for all.
And it's working out quite well, thanks for asking. If you ask Cadillac, anyways.
Improvements, according to The Detroit News, include:
Brand revenue has increased the past two years, and Cadillac's average U.S. sales price in April was just above $55,000, about $5,000 higher than the luxury average and topping competitors such as BMW and Lexus. It earned the "Most Improved Super Loyalist" award earlier this year from IHS Markit for customers who buy three straight vehicles from the brand. Sales in ever-important China continue to rise, soaring 92.5 percent through the first four months of the year and running ahead of the sales pace in the U.S. Cadillac global sales are up 31.6 percent this year through April.
But brandish talk like this isn't remotely relevant to you or me.
What we have seen are performance-oriented models like the CTS-V and ATS-V absolutely slaying it at the track. They're legitimately good cars. The flagship CT6 will give any German luxobarge a run for its money. And the $1,500-a-month car sharing program sounds pretty sweet. It's not a bad start.
Keep in mind, though—these things are not determined by an automaker's location. It certainly helps that Cadillac has situated itself in a city where you can pay $18 for a shitty cocktail under the guise of "luxury city living," but Cadillac needs to keep the ball rolling with actual products—and not just the fluffy, intangible stuff known as "brand image"—in order to make it.
4th Gear: VW: Anything Tesla Can We, We Can Do Better
I was in the mood for some fighting words this morning and I'm glad they're coming from VW.
As part of the Dieselgate settlement, VW was ordered to put $10 billion towards electric vehicles and other investments, which the German automaker says will make it a "market leader," according to Financial Times. It has said that it plans to sell one million electric cars by 2025.
"Anything Tesla can do, we can surpass," declared Herbert Diess, head of the VW brand at its Wolfsburg headquarters.

"We are confident that in this new world we will become a market leader," he added.

"[Tesla] is a competitor we take seriously. Tesla comes from a high-priced segment, however they are moving down," Mr Diess said, referring to the $35,000 Model 3, which enters production this summer. "It's our ambition, with our new architecture, to stop them there, to rein them in."
We saw a few electric VW concepts recently, including the I.D compact car with an alleged 373-mile range.
Whether or not Volkswagen will be able to pull of its lofty claims remains to be seen, but it does bring up the debate of who is better equipped to make cars (and make them well): a boutique, specialized start-up or an industry giant.
5th Gear: Poor Mitsubishi
Messing with tire pressure to cheat fuel economy data. What a bold move on Mitsubishi's part, which fessed up to the crime last April. As a result. Nissan was able to swoop in and seize a 34 percent stake in Mitsubishi Motors.
This cheating, according to Automotive News, "torpedoed [Mitsubishi] sales in the home market." The scandal, aided by shitty sales and foreign exchange losses, have caused Mitsubishi's operation profit to tumble by a whopping 94 percent during this past fiscal year.
Some sad figures:
Operating profit sank to 5.1 billion yen ($45.8 million) in the Japanese carmaker's fiscal full year ended March 31, from 138.4 billion yen ($1.24 billion) a year earlier.

The company also slumped to a net loss of 198.5 billion yen ($1.78 billion) in the 12 months, from net income of 72.6 billion yen ($652.5 million) the year before, Executive Vice President and Chief Financial Officer Koji Ikeya said while announcing financial results on Tuesday.

Revenue declined 16 percent to 1.91 trillion yen ($17.17 billion), as global retail sales fell 12 percent to 926,000 million vehicles in the fiscal full year.

Mitsubishi's operating profit was undercut by falling sales in every market except North America, where volume only inched ahead 2 percent to 138,000 vehicles for the year.

Foreign exchange rate losses lopped 77.5 billion yen ($696.6 million) off the company's full-year operating profit, as the yen appreciated against the U.S. dollar and other currencies.

The carmaker also took a charge of 36.0 billion yen ($323.6 million) in the fiscal year to cover costs associated with improper fuel economy testing of vehicles sold in Japan.
Neutral: Because I like to be hopeful and filled with optimism, I like to think that, large or small, there will always be a market for performance cars. Enthusiasts will never cease to exist. Do you agree?
["source-jalopnik"]