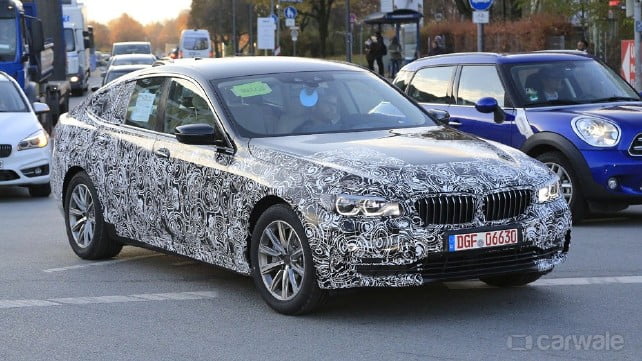 It is speculated that BMW will replace the 5 Series GT with a more spacious, and better looking 6 Series Gran Turismo. The new BMW 6 Series GT was spotted testing on streets of Germany. Reports are that the 6 Series GT is aimed at distancing from the 5 Series saloon and Touring, and will indirectly replace the 6 Series Grand Coupe as well.
Dropping some camo, the test mule reveals that the headlamps and tail lamps are borrowed from the recently launched G30 5 Series. The rear is plumper as it was in the 5 GT, which translates to a roomier and spacious interior. But the silhouette is sleeker than before, and the roofline is coupe-ish, with a large overhang at the rear. The test mules sports dual exhausts at the back and the trademark 'shark fin' atop the roof.
The 6 Series GT is based on the manufacturer's same modular platform which currently underpins the new 5 Series and the 7 Series. Therefore, the 6 GT is expected to drop some 100 kg over the outgoing model and feature the same range of engine options. This particular test mule seems to have the 3.0-liter inline six turbodiesel engine under the hood. There are rumours that the 6 GT will also feature the hybrid variant under the iPerformance, in the future.
The 6 Series GT is expected to fill the gap between the 5 and 7 Series. And will be a better-looking car than its predecessor. It is unsure when or where BMW will officially unveil the new 6 Series GT, but it is expected to go on sale in 2018
source"cnbc"