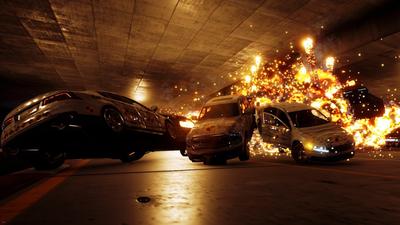 Releasing for PC via Steam and PlayStation 4 next month (priced at $12.99/£9.99/€12.99), Danger Zone puts players in a virtual crash test facility that features 20 single-player crash testing scenarios, each with its own distinct layout.
In the game, which is built in Unreal Engine 4, players are tasked with driving into a junction to create the biggest collision they can. If enough cars are involved in the crash, the player will earn a "SmashBreaker," which turns their car into a bomb that can be triggered to explode on command.
Points are awarded for the number of cars crashed, and bonus points can be earned by pushing cars off the road or exploding them while in "SmashBreaker." Danger Zone will also feature leaderboards, allowing players to compare their scores against other members of the community.
"We are going back to our roots by creating a game in a genre we are truly passionate about," studio founder and CEO Fiona Sperry said of the project. "Danger Zone takes what made the Crash Mode featured in 2004's Burnout 3: Takedown so popular and transforms it into an all-new car-crashing, arcade-style game."
Three Fields Entertainment is an independent studio founded by Sperry and Alex Ward, the creators of the critically-acclaimed Burnout franchise. After departing Criterion Games in 2014 to open Three Fields Entertainment, Sperry and Ward announced they were working on a "spiritual successor" to the Burnout series.
Last year, the studio launched a unique golfing game called Dangerous Golf, as well as an arcade-style shooter titled Lethal VR.
[sOURCE:-ign]