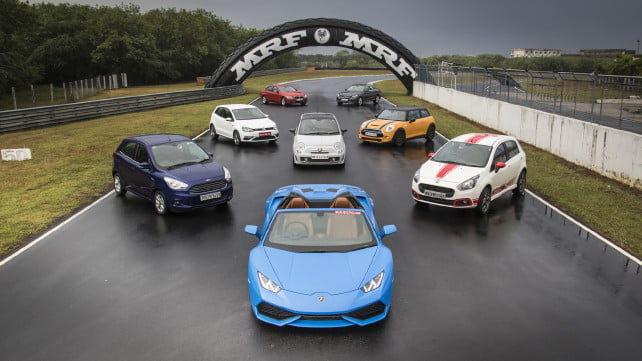 They're meant to deal with the hustle and bustle of the city, but we at CarWale decided to take the cars on a race track
The average hatchback or the sedan is generally used for commutes to work and back and at most for the occasional weekend drive. We at CarWale bring you exhaustive reviews with comprehensive data to tell you exactly how the car is to drive under daily conditions. But this time we decided to do something different. We decided to test the cars on their absolute limits and what better place to that than on a race track.
The track in question is the Madras Motor Race Track. 3.7km of fast corners, chicanes and technical corners where all the performance aspects of the car will be laid bare. We also needed someone who could drive these cars at their limits. Someone who himself drives at the limit for a living. Say hello to Aditya Patel who is currently racing in the extremely competitive Audi R8 LMS cup.
An exciting bunch of cars, a skilled race driver and a race track all to ourselves. Sounds exciting right? Read on to find out more…
Tags:
Volkswagen,Fiat,Ford,Lamborghini,Mini,BMW 3-Series,Figo,Ford Figo,3 series,Mercedes-Benz,Mercedes-Benz C-Class,C-Class,Huracan,Lamborghini Huracan,Mini Cooper S,Cooper S,Huracan LP 610-4,Abarth 595,Fiat Abarth 595,Abarth Punto,Fiat Abarth Punto,GTi,Volkswagen GTi,CarWale trackday,Figo Titanium1.5 TDCi,Abarth Punto T-Jet 1.4 Abarth,GTI 1.8 TSI
 source"cnbc"