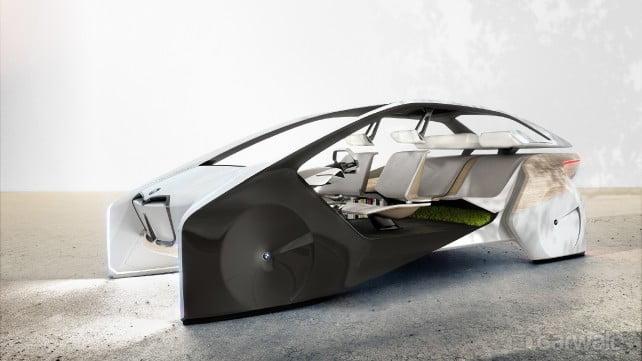 The 2017 Consumer Electronic Show (CES) is underway and is previewing some outrageous and fascinating glimpses of the future of the automotive world. The most futuristic among this lot is the 'i Inside Future Sculpture' showcased by BMW.
BMW believes that cars in the future will have a connected and usable interior which will come into play when the occupants have to focus less on the road. To start with, the sculpture has holographic controls with gesture response called the HoloActive Touch. The free-floating dashboard with a continuous screen is focused towards the driver, which the driver need not physically touch at all as it uses tactile feedback and cameras with ultrasound pulses while the driver will only feel a vibration instead of a touch.
On the other hand, the BMW Sound Curtain gives a personalised sound experience to each passenger inside the cockpit and the passengers can enjoy the large screen to watch any sort of entertainment they want through the in-car connected facility or those screens can be utilised as ambient lighting when required.
The 'structure' on the outside, sans the door, looks straight out of a Hollywood sci-fi movie. The characteristic kidney grille design is present, as the structure utilises an interesting combination of materials. There's even a horticultural plants and set of books underneath the passenger seats. Overall design, in a typical BMW fashion, is uncluttered, radical, no-fuss and clean. The self-driving traits for the future vehicles are demonstrated as well.
In addition to this, BMW has also brought to CES its latest generation 5 Series with self-driving and self-parking demeanours. The onboard gizmos include cameras, sensors with a powerful computer constantly monitors the roads and surrounding so the driver can delegate the driving responsibility to the vehicle whenever desired, to focus on other 'important' activities. These important activities include enjoying the environment, browsing the internet, getting information or watching videos with the help of BMW's Open Mobility Cloud service
source"cnbc"