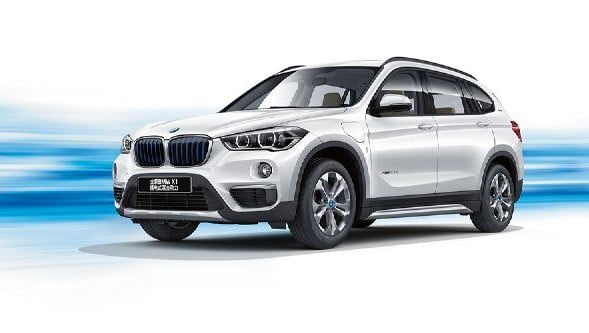 Following its online debut earlier this month, the BMW X1 xDrive 25Le was recently revealed at the Chengdu Auto Show in China. The X1 25Le, as we know, is the first ever plug-in hybrid offering in the compact luxury crossover space.
This eco-friendly model is based on the X1 Li, a long-wheelbase model that is already on sale in China. The former features blue-coloured inserts in the grille, and iPerformance stickers on the doors.
Manufactured by BMW Brilliance, the X1 plug-in hybrid is in line with China's development policy for the NEV industry. It runs on both electricity and fuel, with the petrol engine and electric motor powering the front and rear wheels respectively. The hybrid tech is inspired by the futuristic looking i8 and will make its way to other series-produced models by BMW.
The 1.5-litre petrol engine at the front axle is mated to a 6-speed gearbox and churns out 134bhp with peak torque clocking in at 220Nm. The electric motor at the rear axle, on the other hand, produces up to 70kW (93bhp) and can deliver a peak torque of 165Nm at start-up. Thanks to BMW's eBoost function, both power systems can provide a peak torque of 385Nm allowing a 0-100kmph time of just 7.4 seconds.
The X1 xDrive25Le iPerformance comes packed with a lithium battery with a net capacity of 10.7 kWh to provide a purely electric cruising range of 60km and a combined cruising range of 630km when working in tandem with the 35-litre fuel tank. Like the new 1 Series sedan, the X1 xDrive25Le iPerformance will only be available in China.