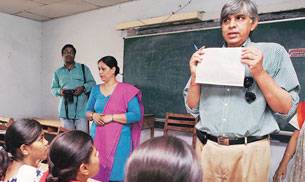 The advertisement for the posts will be issued in January,  2017.
Marks secured in viva-voce will determine admission into M Phil and PhD courses: JNU
MEA's new rules will make passport obtaining process hassle free
'E-Learn Punjabi' launched for teaching Punjabi: Punjab Education Board
Shah Rukh Khan receives honorary degree by Hyderabad-based university
JNUSU not happy with VC for not reducing viva weightage in MPhil, PhD admission
In a sigh of relief for many, Delhi University (DU) has announced to hire over 1000 teachers on permanent posts.
After seeing the previous reports, it has been noticed that this decision from the university has come after a long wait of seven years.
Last month, in a major shock to aspirants willing to pursue the profession of teaching, Minister of State for Human Resource Development Mahendra Nath Pandey announced that over 900 permanent teaching posts are lying vacant in the University of Delhi.
More on the report:
It is said that Delhi University will be hiring over 4,000 teachers on a permanent basis next year
Also, the notification of the same will be issued in January, 2017, the varsity told the Delhi High Court
Moreover, at AAJ Tak Agenda 2016, the Union HRD Minister Prakash Javadekar while commenting on the appointment of professors on permanent basis said, "The meeting on appointment of teachers in Delhi University (DU) will be held soon"
Meanwhile, the Delhi High Court has been informed that the HRD Ministry held a high-level meeting between officials of the ministry, the University Grants Commission and the Delhi University.
"At the meeting, officials had "agreed" that the holding of regular selection process, in accordance with the rules and the norms laid down in this behalf, is not only an imperative but is also beneficial – both for the student community as well as the teachers themselves," as reported in recent Indian Express report.
source"cnbc"