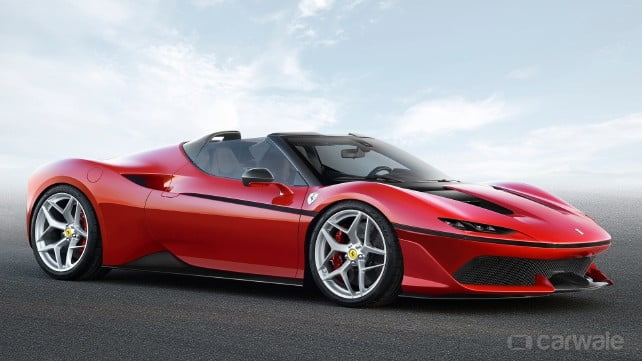 A Ferrari starting with a J on its badge is as rare as finding a bone-stock Toyota Supra. But here we have the Ferrari J50 – 10 cars built to celebrate 50 years of the prancing horse's arrival in the land of the rising sun – Japan. Built by the Ferrari Special Operations, it is almost impossible to tell that it started as a 488 GTB.
The Ferrari J50 harks back to the coach-building era with its entirely new custom built body. It gets a Japanese flair in its styling. The wedge-like impression is accentuated by black dividing line that runs across the face. The headlamps have also been brought parallel to it and the large air dam below with the lip morphing into an aero-wing makes it look raucous. The bonnet louvres go deeper and get touches of black. The windshield height has been lowered and the blacked A-pillars give a seamless look.
The gorgeous hunches of the rear wheel arches with the air intake and the striking alloys complete the profile of the J50. The carbon-fibre roof is made of two parts which can be stowed behind the seats for open-air motoring. The targa-like glass deck-lid with the aerodynamic roll-hoops expose the engine unlike the 488. The J50 goes the classic quad way for the tail lamps. Of course it has a rear splitter and twin exhaust pipes for each bank of the V8 underneath.
Coming to performance, it is a classic rear-wheel drive Ferrari and uses the 3.9-litre twin-turbocharged petrol V8 engine. The power figure has been bumped to a touted 680bhp. It goes without saying that the J50 will be lighter and hence will beat the 488GTB for a sub-4 seconds sprint to 100kmph and a top speed of over 300kmph.
The interior has been carried over from the 488GTB but will be customised for each of the ten owners. Knowing the Japanese's love for Ferraris, it is given that the ten prancing horses will have found their stables and a price tag of close to 3 million euros (approx. Rs 25 crore) will certainly not be a limiting factor for any of those.
source"cnbc"