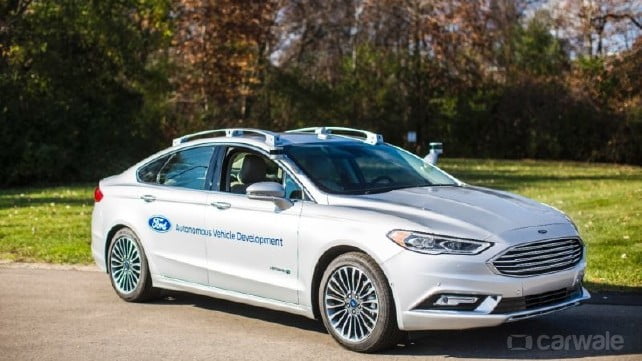 Ford has been working on autonomous cars for quite some time now and the American manufacturer will now be bringing in the updated, second generation of its autonomous tech at the 2017 Consumer Electronic Show (CES). The new generation system will be more compact, more precise and can cover a larger area due to clever use of the LiDar systems.
The number of LiDar sensors have been reduced to two instead of four as was the case in the older system but are now backed with more processing-power computer hardware and thanks to the strategic positioning of it, to give a better and targeted field of vision than before. The sensors and cameras are now packed into what looks like a pair of roof railing and rear view mirror inserts. The roof rails incorporate three cameras, apart from these three there is one camera on the windshield and then there's a radar in case of bad visibility for the cameras. All these feed the data to a powerful computer, which can process one terabyte of data in an hour, placed in the boot of the vehicle.
Ford says that the new self-driving car evolves in two main elements that are required for an autonomous vehicle – the vehicle platform, which is now the new generation Fusion, and the virtual driver system. The virtual driver system is made up of sensors (LiDar, cameras and radar), algorithms for localisation and path planning, computer vision and machine learning, a detailed 3D road maps, and a capable computational and electronic gizmos.
This is the next step in Ford's plans to make available a fully autonomous vehicle by 2021 for ride-sharing and ride-hailing services. Ford expects to expand its fleet to a total of 90 cars and will continue testing its self-driving tech on the streets of Michigan, California and Arizona.
 source"cnbc"