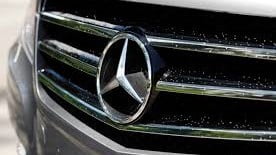 In efforts to raise its safety standards in India, German luxury carmaker Mercedes-Benz has requested the Indian government to delicense all radar frequencies in the country. The automaker offers reliable radar-based driver assistance systems across the globe, however could not do so in India due to government regulations. The radar-based driver assistance systems includes collision prevention assist, blind spot assist and distronic plus, just to name a few.
Last year, the Indian government had delicensed frequency bands in the range of 36-38MHz, 433-434.79MHz, 302-351kHz and 76-77GHz. Though Mercedes-Benz has welcomed this move, it also wants the government to delicense 24GHz, 76GHz and 79GHz which is important for its system in cars to perform optimally. Moving forward, as the Indian government will be implementing stricter crash test norms for cars from October 2017, the luxury carmaker also hopes that the government will also consider delicensing all radar frequencies.
Roland Folger, Managing Director and CEO of Mercedes India also believes that delicensing all the required frequency bands will be a significant milestone for the Indian automotive industry. Currently, the XC90 T8 Excellence from Volvo is the only one to get permission and offer radar-based technology in the country, and if the government considers delicensing of all radar frequencies, it will allow Mercedes-Benz to introduce technologically advanced and safer cars in the country.
source"cnbc"