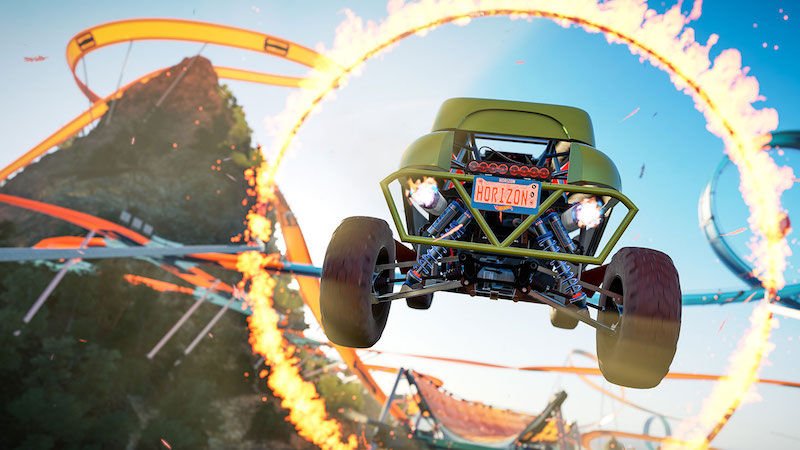 Forza Horizon 3 is one of our favourite racing games. Developer Playground Games has done a fantastic job in creating a visually arresting locale and peppering it with fun races and related events. It's not easy to build on something that good, but somehow the Playground team keeps doing it.
First the team released the Blizzard Mountain expansion, which had an awesome combination of a high-altitude setting and inclement weather. This made races a lot more exciting and challenges such as danger signs were on another level. Playground Games has now released another expansion – Forza Horizon 3 Hot Wheels.
If you aren't already aware – Hot Wheels is a brand owned by toy maker Mattel. It's known for its toy cars, and also stunt tracks for those cars. We're sure you can already see the direction in which Forza Horizon 3 has gone in with the latest expansion.
Forza Horizon 3: Hot Wheels adds a new island to the game – one where looping plastic stunt tracks dominate the scenery. There are a bunch of cars to unlock and lots of familiar elements for those who have played the base game — races, drift zones, speed traps, and more.
There's a lot to like about the Hot Wheels DLC for Forza Horizon 3, but the best part is the plastic tracks. Driving around the Australian outback was a lot of fun in the base game, but in the expansion the tracks take things to another – totally outrageous – level. It has bright orange plastic tracks, crazy looping blue ones, and the Hot Wheels Power Booster that gives you an insane speed boost.
We found one place where there's a stunt track that loops around a hill, goes all the way to the top, and brings you back down the other side. We approached it in an Audi R8 V10 Plus, and the Power Booster at the start of the loop boosted us to the top at around 250 kmph. The track had a vertical loop too, so the car's roof was actually facing the hill. Once we reached the top and circled round it, there was another Power Booster and we were hurtling down at an insane 370 kmph. That is just an example of how crazy things can get in the Hot Wheels expansion.
Progressing through this DLC is actually quite simple. You can either win races or complete stunt challenges to earn Hot Wheels medals. As you earn more medals, you progress through the expansion pack and eventually reach the finale. We found that you can easily progress without participating in many races. As long as you're good at landing high scores in drift zones, maintain a high speed in speed zones, and nail the speed traps and danger signs, you can keep going through the game at a rapid pace.
The races are a big part of this game though and some of them feature ridiculously twisty tracks. At times these tracks will have you making a massive jump to get to the other side, and if your car isn't in the middle lane you will crash into buildings or land outside the track on the other side. This adds a different challenge to racing, especially if you're gunning for three medals in a race. Winning races gets you two medals, but to get the third medal you have to clear challenges such as finishing a lap faster before a time-limit, or completing a number of drifts during the race.
The Hot Wheels expansion isn't entirely about insane speeds. You'd ideally want to drive around with a car that is fast and can drift reasonably well. We didn't enjoy driving the Ferrari 575M Maranello on Hot Wheels tracks because that car doesn't turn easily. On the other hand, the Ariel Nomad — an offroad buggy — was great at turns but it failed completely when we tried to push it to the top of the hill stunt track because it just wasn't fast enough.
Other standard elements such as barn finds and bucket list challenges are also present in this DLC. The bucket list challenges feel a bit out of place in this expansion pack as the ones we tried were pretty straightforward. The base game has some phenomenal challenges such as one where you rip across an ocean road at 400 kmph in a Koenigsegg One:1 or the haunting one where you traverse through a forest in an Oldsmobile 442. The Hot Wheels DLC didn't have equally memorable bucket list challenges, unfortunately.
Hot Wheels is no stranger to video games. The company has been featured in games for decades now, and some of that experience shows in the way this expansion pack has been executed. Not only does it replicate some of Hot Wheels toy sets' best features, it manages to blend in seamlessly in the world of Forza Horizon 3. If you loved the base game, we'd wholeheartedly recommend this expansion. It's totally over the top and has enough content to justify the price.
Pros
Insane tracks
Great new cars
Cons
Average bucket list challenges
Overall rating (out of 10): 9
Forza Horizon 3 Hot Wheels DLC is available on Xbox One and Windows at Rs. 1,324 ($20 in the US). You need to buy Forza Horizon 3 to be able to play this expansion.

["source-ndtv"]