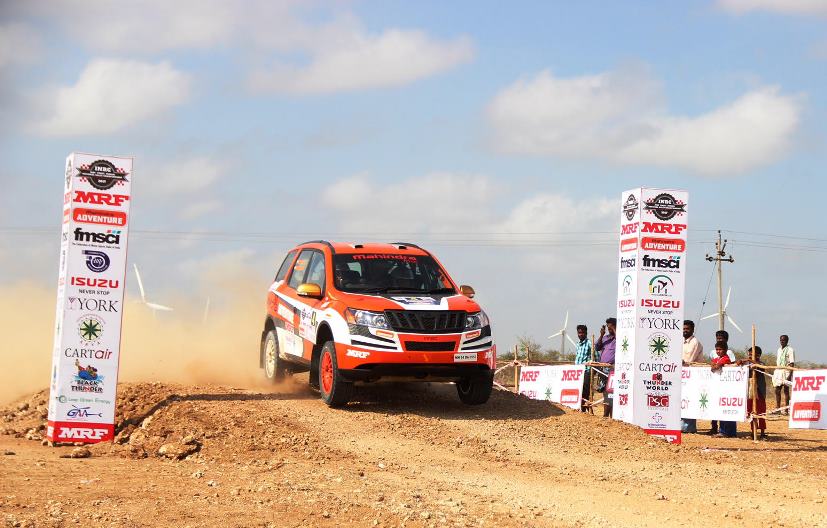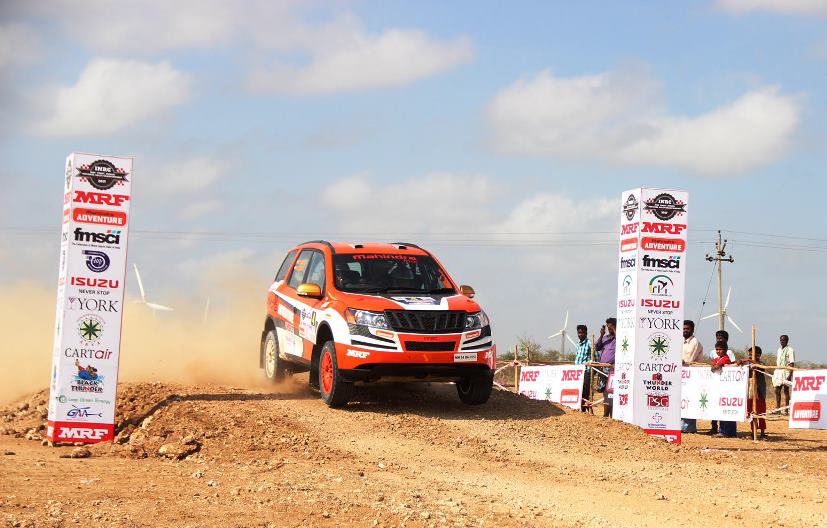 The 2017 MRF FMSCI Indian National Rally Championship (INRC) kick-started in Coimbatore last weekend and Team Mahindra Adventure has managed to build its dominance. Gaurav Gill with co-driver Musa Sherif stormed right from the first stage itself tackling gravel terrain across all the twists and turns in just 12 minutes and 11 seconds, leading by 18 seconds over the next team in the 24 car grid.
Driving the Mahindra XUV500, Gill finished the 70 km Round one in 1 hour 36 seconds completing all five stages. In fact, the 35-year-old kept increasing his lead by a minimum of 20 seconds in every stage. Defending INRC champion, Karna Kadur and Nikhil Pai of Arka Motorsports finished second with a difference of 1 minute 45 seconds Gill.
mahindra adventure gaurav gill inrc 2017
Gaurav Gill and Musa Sherif pose with the rally spec Mahindra XUV500
Making a comeback to rallying, Amittrajit Ghosh and Ashwin Naik of Team Mahindra Adventure grabbed third place on the podium despite technical issues with the vehicle slowing them down briefly.
Leading in the standings, an excited Gill said, "It was a good win. I enjoy driving here in Coimbatore and it's always nice to start the season with a victory." The two-time APRC winner added, "It was a nice smooth round, with no drama and no fuss. I particularly enjoyed the second stage where our skill and control came into play."
While Kadur couldn't match up to Gill's pace in his rally spec Volkswagen Polo, the defending champion stayed ahead in the INRC 2 category. Rahul Kanthraj and Vivek Bhatt finished second in the INRC 2 with a gap of just 3 seconds, while finishing fifth overall.
inrc 2017 round 1 coimbatore winners
INRC 2017 Round 1 Coimbatore Winners
With the heat getting to the teams, Arjun Rao and Satish Rajgopal pulled out in the first stage of Round 1, with five other teams making it to the DNF list. While the complete Round 1 was largely crash free, Aroor Vikram and Somayya AG did have a major crash that led to their Volkswagen Polo being burnt down. Fortunately, both the driver and co-driver escaped the mishap unhurt.
Lastly, Dean Mascarenhas and Shruptha Padival claimed the win in INRC 3 category of Round 1, finishing fourth overall.
Results:
INRC 1:
1. Gaurav Gill & Musa Sherif (Team Mahindra Adventure)
2. Karna Kadur & Nikhil Pai (Arka Motorsports)
3. Amittrajit Ghosh & Ashwin Naik (Team Mahindra Adventure)
INRC 2:
1. Karna Kadur & Nikhil Pai (Red Rooster Performance)
2. Rahul Kanthraj & Vivek Bhatt (Red Rooster Performance)
3. Younus Ilyas & Harish Kumar
INRC 3:
1. Dean Mascarenhas & Shruptha Padival
2. Dr Biku Babu & Milen George
3. KM Bopaiah & Karumbaisah G
["source-auto.ndtv"]