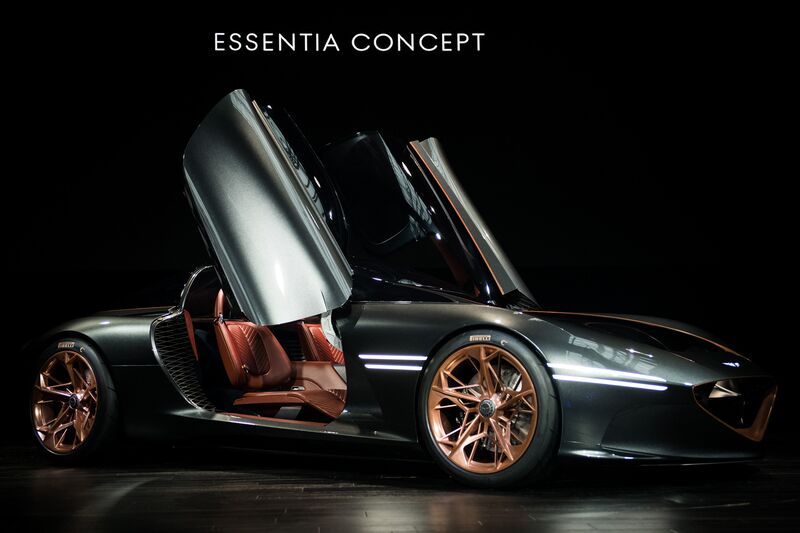 The news out of the New York International Auto Show usually mirrors what tri-staters tend to buy: luxury models and import brands. This year will be no different, though with a bit of a twist. The 2018 show will be a significant one for Detroit's premium lines, with General Motors Co.'s Cadillac and Ford Motor Co.'s Lincoln revealing crucial new SUVs. Japanese carmakers also will roll out redesigns of two of the industry's biggest sellers, the Toyota RAV4 and Nissan Altima.
We'll be delivering developments to you throughout the day here. All times are in New York.
Genesis Debuts All-Electric Essentia Concept (4:28 p.m.)
Genesis unveiled the car it says shows the way forward for the Hyundai-owned luxury brand: the Essentia.
The all-electric coupe is made from a super lightweight and low-slung carbon-fiber monocoque body and sports a battery-powered motor that it says will get it to 60 mph in 3 seconds.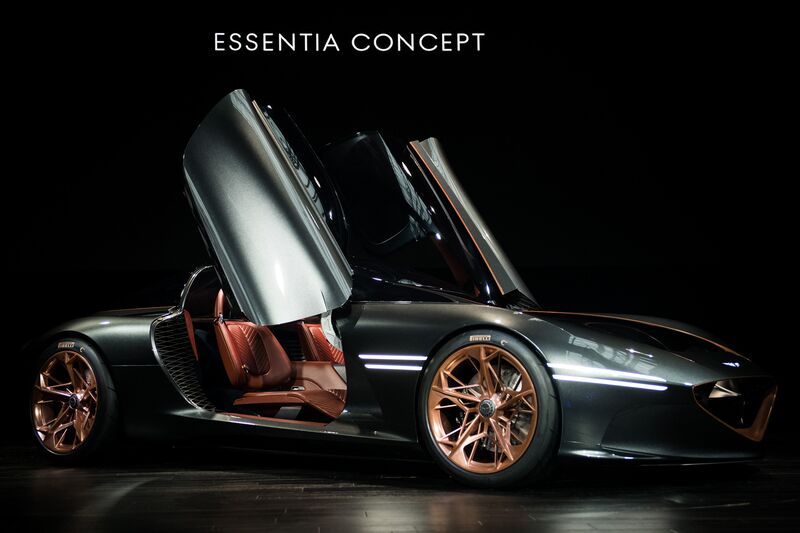 Senior Vice President Manfred Fitzgerald promised last month that the concept will be remembered as a "turning point'' for the brand.
During the past few years, Genesis has used the New York show to launch a string of concepts aimed at luxury competitors like BMW AG and Honda Motor Co.'s Acura division. To compete in the upscale space, Genesis wants to separate its U.S. showrooms from those of parent Hyundai Motor Co. The carmaker plans for only about 100 dealers to sell Genesis, angering some of the 750 who'll be left without these high-end offerings.
Subaru Throws Shade at Rivals' Driverless Claims (2:45 p.m.)
Subaru Corp. unveiled the fifth iteration of its Forester, and it's playing up the safety features at an opportune time. The compact SUV comes standard with its driver assist technology, and top-line models will offer a new feature that alerts drivers if they're getting distracted or fatigued on the road.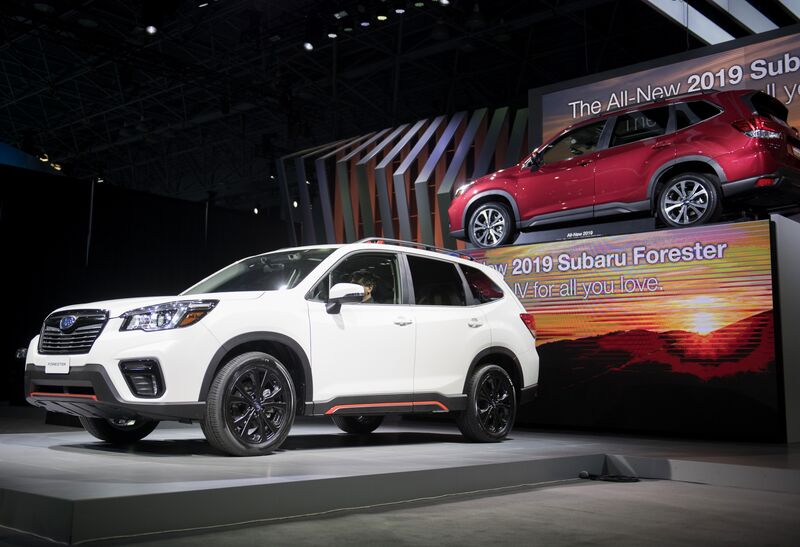 "It recognizes the face of the driver, so if you're staring away for a couple of seconds or two, it will alert you, and if you don't put your eyes back on, the system actually begins to work in combination with our EyeSight system to prevent any type of crash," Tom Doll, president at Subaru of America, told reporters after the model was revealed.
That kind of connection between driver and car is important, but not an excuse for drivers to get reckless, Doll said.
"You can't take your eye off the road, despite whatever some manufacturers might be saying about their systems," he said when asked about the recent fatality involving an autonomous car. "They're trying to rush them too much into the marketplace. We're going to do it in a smart way: We're going to make sure our customers are safe, we're going to try to prevent collisions first, and from there we'll take it."
Lexus Telling Bosses: Let's Make That LF-1 (2:40 p.m.)
U.S. executives at Toyota Motor Corp.'s luxury brand are sending a loud-and clear message back to headquarters in Japan about the LF-1 Limitless crossover concept first shown in January: This model has to make it into production.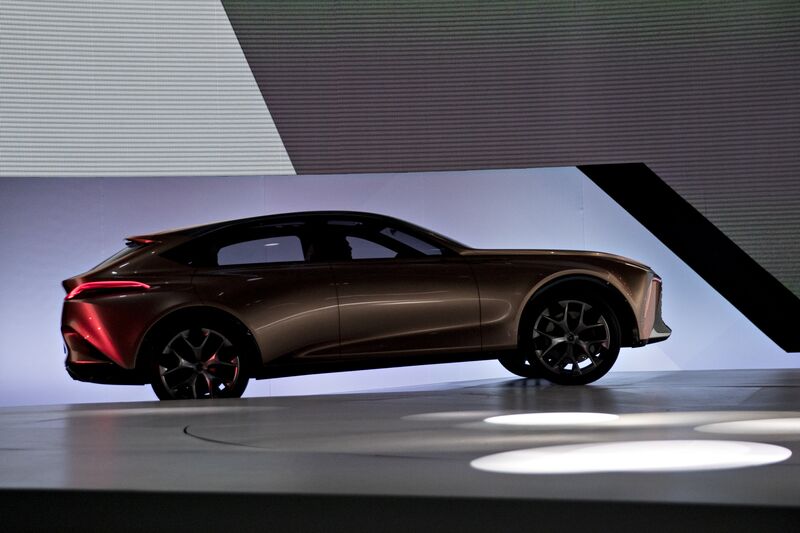 "There will be no misunderstanding about our interest in the vehicle," Jeff Bracken, Lexus's group vice president, said in an interview. The brand's dealers are clamoring for a sport utility vehicle flagship that would slot above the $85,380 LX, he said.
"Land Rover, Range Rover, they do really well in some of those price areas," Bracken said. "We feel we can do that as well."
Hyundai Plays Crossover Catch-Up (12:45 p.m.)
Hyundai Motor Co. has been struggling to cope with the sea change in the U.S. auto market toward SUVs at the expense of sedans. Several of the eight all-new or redesigned models it's promised by 2020 are debuting at the Javits Center.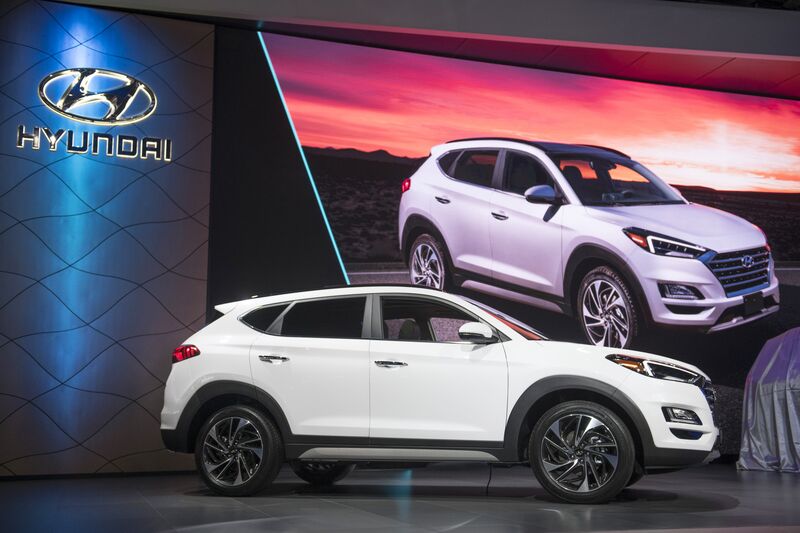 The South Korean carmaker has given the compact Tucson a nose job and packed it with more advanced safety features, including a standard collision-avoidance system. The overhauled Santa Fe SUV first revealed earlier this month in Geneva also is reaching a show on American shores for the first time, along with an electric version of the Kona crossover that should boast about 250 miles of battery range.
Cadillac Could Cross Key China Sales Threshold (11:22 a.m.)
The Cadillac XT4 that GM showed off late Tuesday will go on sale in the fourth quarter, GM Chief Executive Officer Mary Barra said at the Bank of America Merrill Lynch Auto Summit being held alongside the auto show.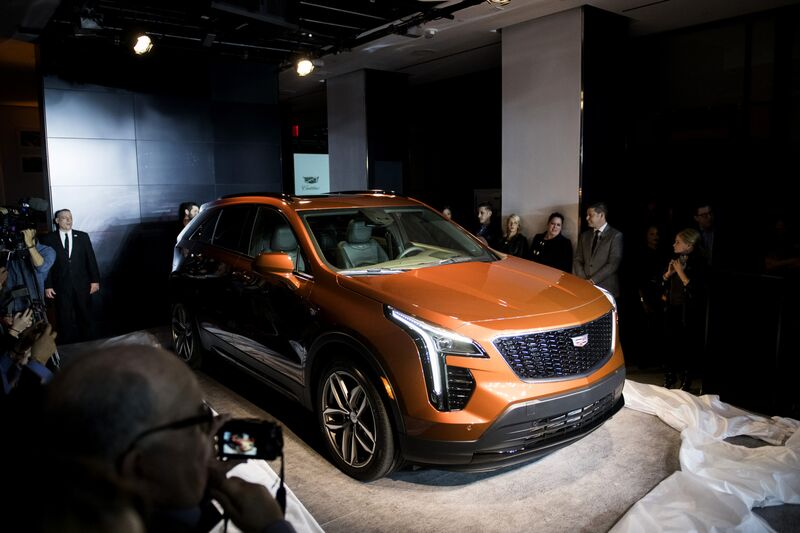 Cadillac's focus has been both on beefing up its product lineup and better taking advantage of the fastest-growing luxury market on the planet: China.
"This has really become a very important volume hub for Cadillac," Barra said. Cadillac will probably sell more than 200,000 vehicles in the country this year, she predicted.
VW Shows Surprise Pickup Truck Concept (10:32 a.m.)
Volkswagen AG surprised show-goers in New York City with a pickup prototype in addition to the five-seater Atlas variant it had already teased would be revealed at the event.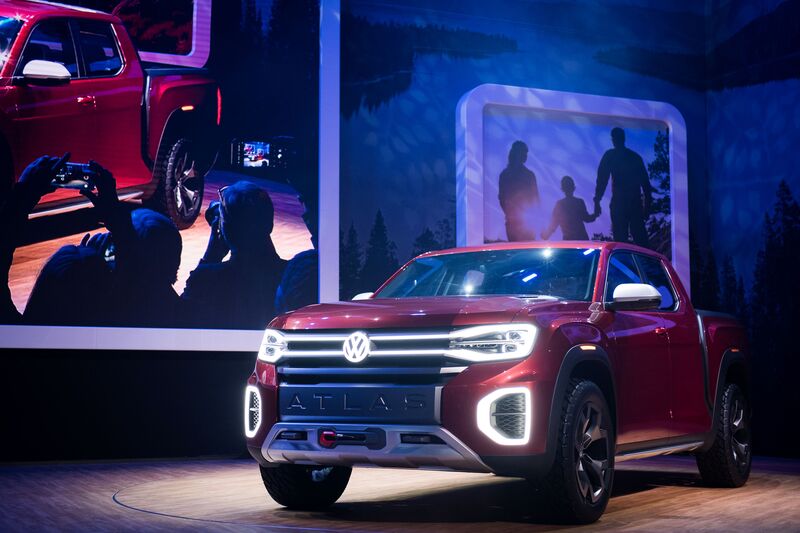 The dual-cab, short-bed pickup — called the Atlas Tanoak — is based on an extended wheelbase version of the SUV with which it shares its name. The concept sports high-gloss 20-inch wheels, low-hinged tailgate, a touch-screen infotainment system and seating for five.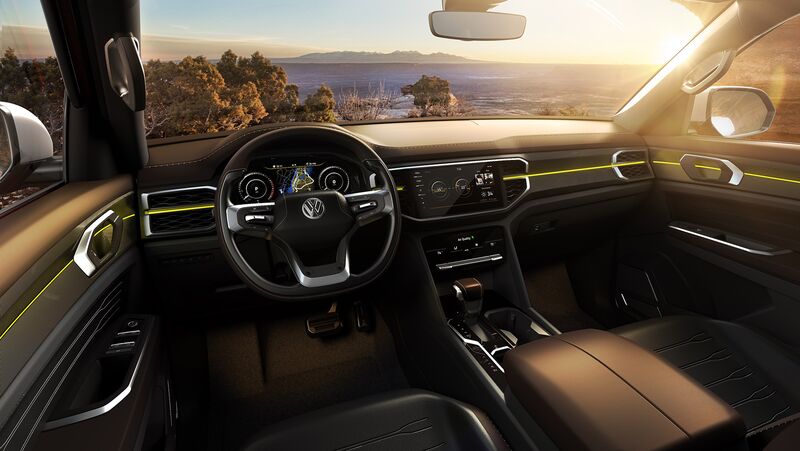 But VW fans looking for a truck shouldn't get too excited: There are currently no production plans for the Tanoak, the German carmaker said. "Volkswagen is keen to gauge the reactions of buyers and media, since pickup trucks are one of the biggest volume segments in the U.S.," the company said in a statement.
Nissan Rolls Out New Altima (9:45 a.m.)
Nissan Motor Co. unveiled a revamped Altima for a mid-size sedan segment that's already down about 15 percent this year and could fall further.
To try to stay above the fray, Nissan will offer its ProPilot Assist technology that helps drivers stay in their lanes on a highway and maintain a set distance from the car in front even in stop-and-go traffic. It also sports a new traffic sign recognition system, an offering that'll start becoming more commonplace as more automakers add it to their safety suites.
Dan Mohnke, Nissan's U.S. sales chief, says he expects the Altima to get a boost because millennial buyers will turn back to passenger cars after spending their youth getting hauled around in their parents' SUVs.
"With the all-new Altima, we intend to capture additional U.S. customers — especially Generation Y and Z drivers," Denis Le Vot, chairman of Nissan North America, said as the car was unveiled on stage. "They are demonstrating a strong appetite for sedans and demand for the latest technology in their cars."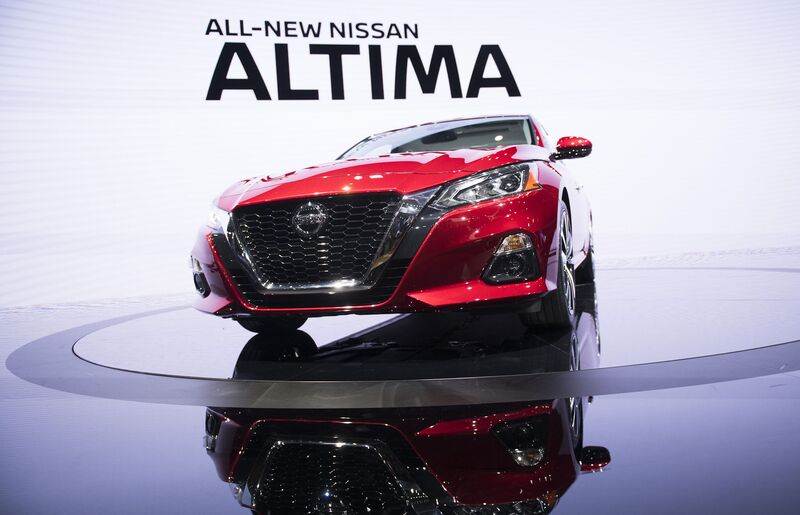 Toyota's Aging RAV4 Getting Major Makeover (12:01 a.m.)
Toyota took the wraps off its first top-to-bottom overhaul of its best-selling
RAV4 crossover since since 2013, with updates including better aerodynamics and the ability to read road signs.
The RAV4 outsold every other car and SUV in the U.S. last year. The redesigned model will be wider and improve ground clearance from the outgoing version. It'll go on sale late this year, with hybrid versions — including a new sport hybrid option — rolling out in early 2019.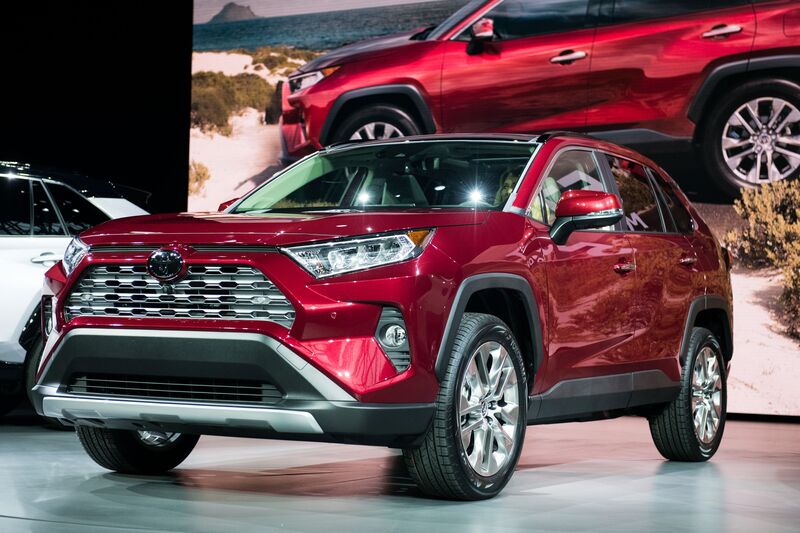 Ford Reboots Aviator as New Three-Row SUV (12:01 a.m.)
Ford is bringing back the Lincoln Aviator, giving the luxury brand a three-row, medium-size SUV for the first time since its predecessor was discontinued in 2005 after a brief three-year run.
The new Aviator is styled to woo moneyed millennials turned off by aggressively sculpted alternatives. When it arrives in dealerships next year, it'll slot in just below the beastly Navigator.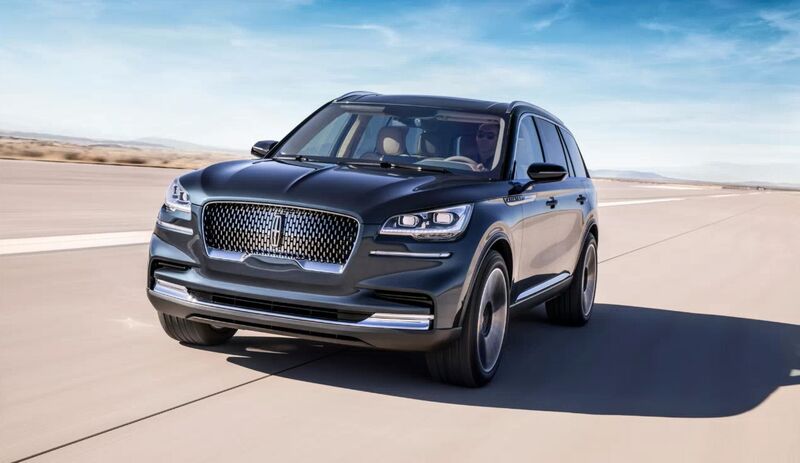 Built on a new rear-wheel-drive platform that'll also underpin the next-generation Ford Explorer, the Aviator will be powered by a twin-turbo engine that can be mated with an optional plug-in hybrid electric motor. Its design was inspired by the downward slope of an airplane wing.
"From our competitors, there's an overwhelming feeling in the marketplace of masculinity, overtness and aggression," David Woodhouse, Lincoln's chief designer, said at a briefing in New York this week ahead of Wednesday's reveal. "We want to be about seduction, not attack."
["Source-bloomberg"]