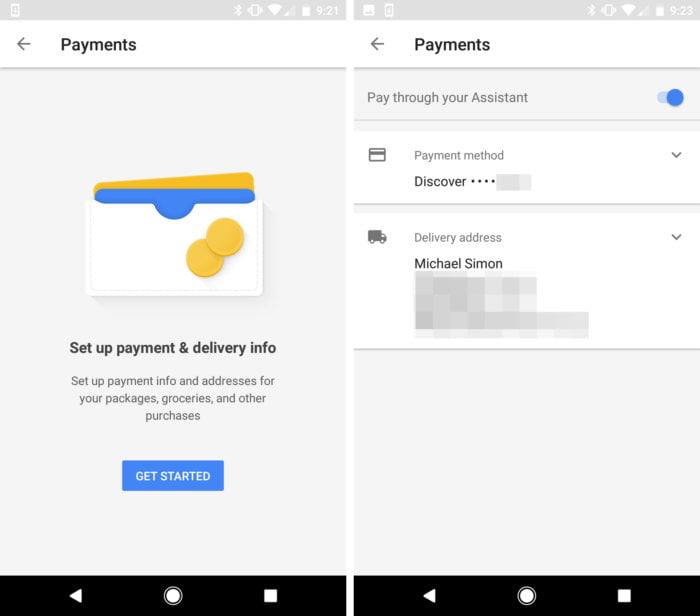 Google Assistant already helps us organize our shopping lists and find out about things we're interested in, but it stops short at actually letting us buy items. With a new feature rolling out to Pixel phones, it looks like that's about to change.
A new option for setting up payment methods has appeared in the Assistant settings for Pixel users, bringing the anticipated feature one step closer to reality. First discovered deep in the beta version of the Google App back in January, it seems as though Google is ready to pull the trigger on voice-powered payments, a major step in Google Assistant's fight against Alexa and Siri.
Head into the Settings menu of the Google Assistant screen on your Pixel phone and you'll see the new option for Payments under the Google Account section. This feature is separate from Android Pay, so tapping it will guide you through a series of steps that lets you store credit or debit cards that can be accessed by Google Assistant. At the end of the process, you'll see a Pay through your Assistant toggle that will need to be turned blue in order to activate the feature.
There isn't much you can do with the feature after it's set up, but presumably Google will announce support for third-party stores shortly. At the start of the set-up process, you'll need to accept the terms and conditions for both Google Payments and Google Express, an online marketplace that links to a number of popular stores, such as Walgreens, Costco, and Toys R Us, so at the very least you'll be able to buy things there. However, asking Google Assistant to shop for something on Google Express merely brings up a search results screen.
Since the feature is tied to your Google account and not the Pixel phone specifically, it's likely it will work with all of the devices integrated with Assistant, including Google Home and Android Wear 2.0 watches.
Speak 'n shop: Amazon Echo users have long been able to order things from Amazon without lifting a finger, and it appears as though Google is looking to do the same thing. Pigs will fly before it includes support for Amazon's boundless marketplace, which will severely limit its usefulness, but building payments into Google Assistant is an important step in the virtual bot's development. And while it's surprising that the steps here don't include a vocal passcode option to protect against unintended purchases by our chatty kids, it's likely Google will implement some kind of safeguard for the Home speaker once the feature is officially announced.
source"cnbc"