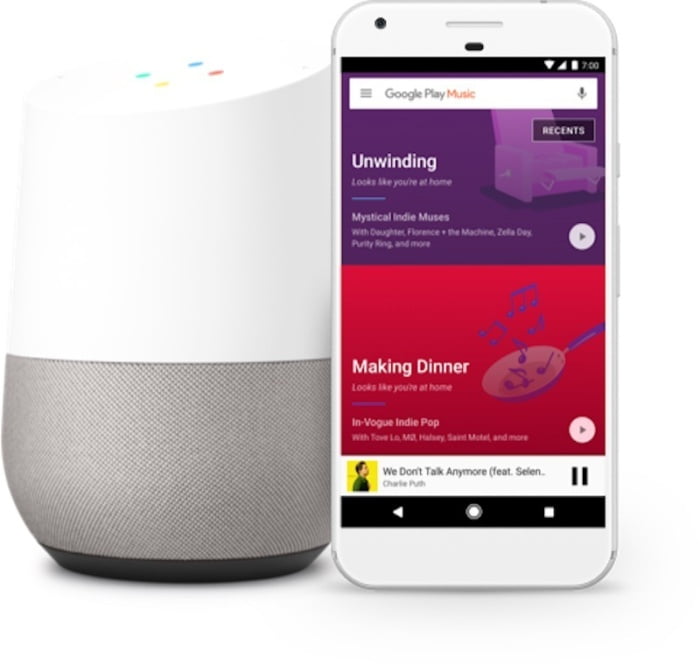 One of the greatest features of having a voice-powered speaker in our homes is the ability to play a song when the moment strikes. Google Home has always included support for Spotify, YouTube Music, Pandora, and TuneIn, letting you fill your house with music just by asking, but now it's making its own service a whole lot smarter.
Subscribers to Google Play Music can now tap into a new personalized world of music with Google Home. Where you previously had to meticulously create your own playlists for workouts or dinner parties, Google will now let Assistant be your DJ, as the service combines "machine learning and information like weather, activity, and location" to deliver the perfect playlist for whatever you happen to be doing:
"Say you're making pizza and your hands are covered in flour. Just say, 'Ok Google, play music for cooking' and we'll serve up the perfect tunes, like our R&B Kitchen Dance Party playlist. If you've had a long day at work and are too tired to move a muscle, say 'Ok Google, play music for relaxing' and get a playlist like Mellow Pop without lifting a finger."
Music fans who live in New York City can check out the new music features for themselves at Google's three-day block party at Chelsea Market on Feb. 24-26. To celebrate the new functionality, Google is also offering a six-month subscription to Google Play Music with any new Google Home purchase through Feb. 27. Additionally, if you buy a Chromecast, you'll automatically save $15. Furthermore, new subscribers to Google Play Music who already own a Google Home speaker can get the first four months for free. All subscriptions also include a subscription to YouTube Red, which has its own music service that works with Google Home, though without the new playlist functionality.
Universal language: While there's nothing all that revolutionary here—Spotify and Apple Music have long touted curated playlists for quickly capturing or setting the mood—the new Play Music playlists are one more way Google is looking to build a fully connected and integrated ecosystem with Google Assistant at the center. With the Pixel, Android Wear, Android Auto, and Google Home, the day when we're able to seamless move from one place to next source"cnbc"