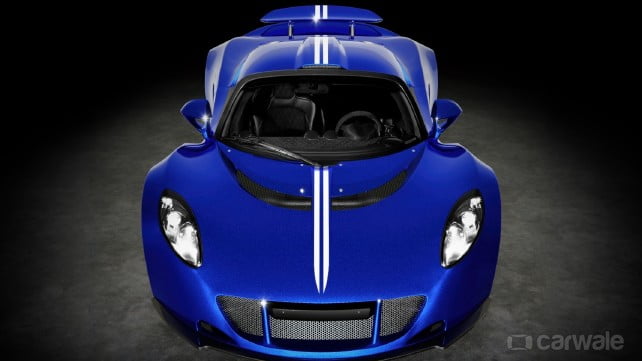 Hennessey Venom GT, after being in production for only six years, has now officially concluded its production. The American hypercar has often been unofficially flaunted as the fastest car in the world. But now after selling only a dozen of cars during its production run, the Venom GT will cease to exist.
The Texas-based Hennessey Performance Engineering (HPE) introduced the last example of the Venom GT called the "Final Edition". It is finished in glacier blue body paint scheme and a white stripe running down in the centre. Powering the final edition is the same twin-turbo 7.0-litre LSX V8 engine pumping out a whopping 1,451bhp. The final car has already been sold at a cool price tag of $1.2millon dollars (approx. Rs 8.17 crore). The car has a top speed of 435kmph.
Since its inception, HPE built only 12 road-going Venom GT's and one working prototype. The first six models were hardtop coupes, whereas the rest of the six were roadsters. Over the past six years of production, the power figures of the Venom GT grew from 1,000 bhp initially to an astonishing 1,451bhp, says the carmaker. With a combined weight of just 1,245kg, the Venom GT brags of becoming the first supercar to attain and exceed the power to weight ratio of 1:1.
John Hennessey, founder and CEO, Hennessey Performance Engineering, commenting on the Venom GT's production end, said, "We've attained some pretty incredible achievements with the Venom GT.  Our Venom GT retires as one of the fastest cars on the planet along with being one of the most exclusive.  I'm so grateful to our customers, employees, suppliers, and our technical partners, who have helped make this special car a reality."
The successor to the Venom GT (which was based on Lotus Exige) has been officially rendered. Called the Venom F5, it takes its cues from Lotus' concept cars showcased back in 2010. According to the manufacturer, the Venom F5 is set to be introduced sometime later this year. And it will squarely be targeted at the Bugatti Chiron.
 source"cnbc"