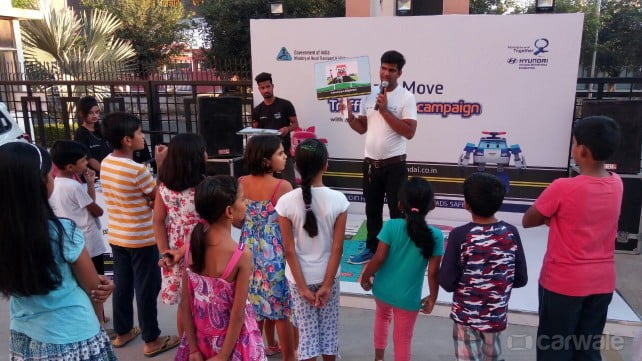 Hyundai Motor India Foundation, the philanthropic arm of Hyundai Motor India Ltd (HMIL) is stressing upon the importance of road and traffic safety through its latest program – the 'Safe Move-Traffic Safety Campaign'.
In its Phase II, the carmaker aims to reach out to about 100 schools and 100 RWAs (Residential Welfare Association) across 10 major cities in India. The initiative will educate children aged between 5-16 years in its new phase. Like the phase I, this new program will again be conducted with the association of Road Transport and Highways ministry and Shah Rukh Khan, Hyundai's corporate brand ambassador.
Y.K Koo, Managing Director and CEO, HMIL said, "Hyundai Motor's core philosophy is to be the lifetime partner of our customers in automobile and beyond and make the world a better place for nature, mankind and the future. Hyundai provides innovative mobility solutions to the customers globally and continuously strives to be a 'Caring Brand'. Being a responsible car manufacturer, it's our responsibility to appraise the children and communities about the importance of Road Safety to make the roads safer. The 'Safe Move -Traffic Safety Campaign' phase II seeks to build upon the momentum generated by the Phase I of the program. With this campaign, Hyundai will further strengthen its commitment to make Indian roads safer."
Hyundai had first launched the safety campaign in November 2015, at the India Habitat Center, New Delhi. Shah Rukh Khan was present at the launch, alongside dignitaries including Nitin Gadkari, Minister for Road Transport, Highways and Shipping, Govt. of India, and others. Phase I of this campaign was successful in cities like Delhi, Chandigarh, Ahmedabad, Mumbai, and Kolkata. It covered 42 schools and 46 RWAs back then, with a total reach of more than 30,000 people.
With the latest campaign too, which will continue till the end of this year, Hyundai India will promote the best practices of road and traffic safety habits among children. Such CSR activities by car manufacturers are a good initiative and bring in a matter of discussion of safety. It will also go a long way in eventually meeting the United Nations decadal goals for road safety.
source"cnbc"