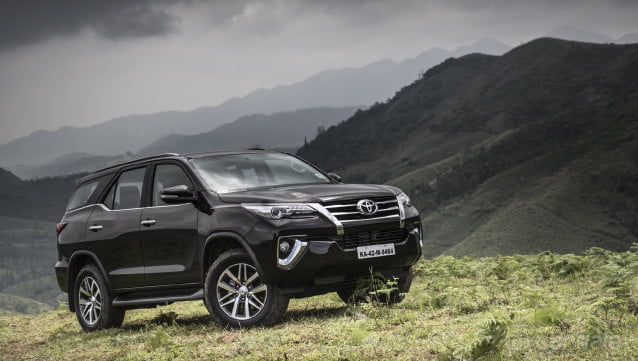 November is usually supposed to be the peak of festive sales for the automobile industry and we expected good numbers especially after the strong showing by the various segments in October. But then, demonetisation happened and most of the country's population was found in or around banks and the automobile industry bore the brunt of the cash crunch. Cumulative sales in November were lower as compared to October. So with the market heading south, we had more losers than winners. Here are the top 3 in each case.
Winners:
Toyota Fortuner
Toyota's big boy is back. It gets all new looks, new platform, new engine and new interiors. But what it retains from the earlier car is its popularity. With the bookings piling up before the launch, Toyota delivered almost 2,000 Fortuner's in the month of November, the highest ever monthly sales for the SUV.
Maruti Baleno
Demonetisation did hit the premium segments but the Baleno has bucked the trend and this we suspect is mostly because it is a Maruti. It is a good car too and gets all the bells and whistles expected with a premium hatch. The Baleno sold 11,093 units in November as compared to 10,718 units it sold in October.
Tata Tiago
The Tiago has made it to the winner's list twice in a row and that is a good thing for Tata. After the Bolt and Zest initiated Tata's image makeover, the Tiago had to make sure it took it forward. With over 6,000 units sold in October and November, the Tiago is taking the Tata brand image one step further towards its goal.
Losers:
Mahindra XUV500
Mahindra has been one of the manufacturers to be hit worst by the demonetisation drive. Especially because the rural markets are largely cash driven. The XUV500 that was selling around 3,000 units on an average has managed to sell only 1,069 units in the month of November. And this is the case with the Scorpio as well as the evergreen Bolero.
Honda City
The Honda City has been one of the best-selling C-segment sedans in the country since it was launched in the late 90s. The sales did dip when the diesels took over but after the Earth Dreams diesel, the sedan sales sprung back. It was selling close to 5,000 units on an average since then but the November sales at just above 2,600 units are almost at 50 per cent.
Skoda Superb
The Superb has been the lone warrior amongst the D-segment sedans. And that is because it offers the space, comfort, feature list and drive equivalent to a premium executive sedan like an E-Class. The ones that can afford the Superb must have been scurrying to save their tender and that is probably the reason the sales are down to almost a tenth from the 246 units sold last month.
source"cnbc"