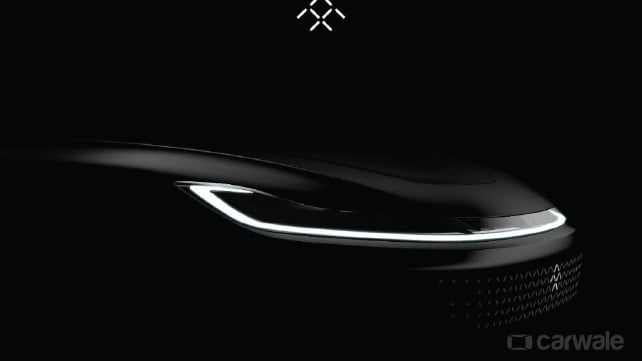 If you haven't heard about the Faraday Future before don't be surprised. It is a start-up which was established with a focus on developing electric cars. It was instituted in 2014 and debuted its first concept vehicle, a single-seater electric car called the FFZERO1, at the 2016 Consumer Electronics Show (CES).
Now over the last few months, the company has been putting its shoulder to the wheels to develop its first electric car, of which the first teaser image has been dropped on Twitter by the carmaker. They have also tweeted that it is ready to lift the veil off the car for the global debut on January 3, 2017.
The teaser exhibits the nose of the car with LED lights running all across the front fascia and an illuminated FF logo of the car maker at the centre. Not much has been officially revealed of this Tesla-rival as yet, but we already know that the first car, which is yet to be named, is going to be an all-electric SUV.
The car was also teased a couple of times in a video with a heavily cladded body with little to give away of what the actual car is going to be like. Another video was titled "Reinvent the wheel" with more emphasis on the vague and blurred wheel technology, which is speculated that it will have a motor attached directly onto its wheel.
Faraday Future is keeping up with its promise to develop its all-electric car. They even joined the Formula E with Dragon Racing, in order to benefit the development of its EV technologies. They are planning to utilise a Variable Platform Architecture for future models after the first car taste success. They have also joined hands with various firms to develop what they claim to be the most energy-dense lithium-ion batteries on the market for its cars.
What remains to be seen is, can this electric car start-up successfully deliver their promise amidst the factory production and investment struggle they are facing right now. Guess we'll have to wait and watch
source"cnbc