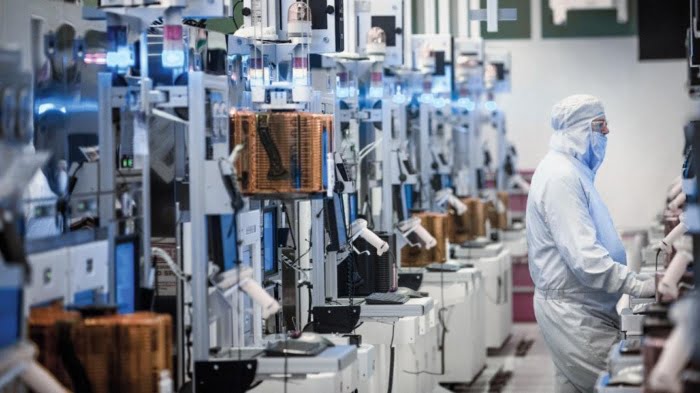 Intel's next big Moore's Law advance will be a 7-nm pilot plant it is establishing this year to explore the upcoming manufacturing process.
The chipmaker announced it was establishing the pilot plant during an earnings call on Thursday.
For decades, Moore's Law has been the guiding light for Intel to make teenier, faster, and more power-efficient chips. The effort has helped PC makers continuously shrink laptops and mobile devices while adding longer battery life.
Intel is trying to hang onto the long-standing observation as a way to push its chip technology forward. However, some experts argue Moore's Law is expiring as it becomes physically impossible to cram more features on smaller chips.
The pilot plant will test and iron out kinks in manufacturing 7-nm chips. Intel hasn't said when it'll start shipping 7-nm chips in volume, but it won't be in the next two to three years.
"The pilot line is about figuring out how to make billions of chips," said Dean McCarron, principal analyst at Mercury Research.
The pilot plant has limited production, but it sets the stage for Intel to invest billions in larger factories to make smaller 7-nm chips.
"Once they have the process locked down, it's replicated in the other plants," McCarron said.
Intel's latest chips, based on Kaby Lake, are made using the 14-nanometer process, and the company is now moving to 10-nm with its upcoming Cannonlake chip, which was shown in a PC at CES earlier this month. The 7-nm chips will come after the 10-nm process.
Cannonlake chips will ship in small volumes by year-end, and their availability will expand next year, Intel CEO Brian Krzanich said during the earnings call.
Moore's Law has also helped Intel roll out new chips on a yearly basis like clockwork. Intel first interpreted Moore's Law as a way to double the number of transistors in chips every 18 to 24 months, which doubles performance.
But that interpretation didn't work on the 14-nm process, where it became a challenge to cram more transistors in smaller geometries. Intel dealt with embarrassing product delays and had to move away from its decades-old schedule of advancing the manufacturing process every two years.
Intel also broke away from its history of making two new chip technologies with each manufacturing cycle. It made three new chip technologies — Broadwell, Skylake, and Kaby Lake — with the 14-nm process.
The chipmaker now isn't worried about doubling the transistor count with every new chip generation. Instead, Intel is now interpreting Moore's Law more in line with the economics related to cost-per-transistor, which would drop with scaling. That's an important part of Moore's Law.
Intel last year said it was trying to get back to a two-year manufacturing cycle with the 7-nm process, but with smarter chip designs.
The 7-nm process could bring radical design changes to chips, which will be much smaller and power efficient. Intel's planning on using exotic III-V materials like gallium-nitride for faster chips that could bring laptops longer battery life.
Intel is looking at the 7-nm process to alleviate some of the challenges it faces on the 14-nm and 10-nm processors. The company has hinted it would introduce EUV (extreme ultraviolet) tools in the manufacturing process. EUV will help etch finer features on chips, but its implementation has been delayed multiple times.
The pilot factory will help validate all those features, and then allow Intel to order equipment for the new factories, McCarron said.
Competitors like Globalfoundries and Samsung are getting a head-start on the 7-nm process. Globalfoundries has said it will start making 7-nm chips by 2018, and ARM has released tools for the design of 7-nm chips. It's not clear if Globalfoundries will do 7-nm test runs or start making chips in large volumes.
Samsung and Globalfoundries have just started making 10-nm chips like Qualcomm's Snapdragon 835, which will appear in smartphones soon.
Globalfoundries is a close partner with IBM, which produced the first 7-nm chips last year.
source"cnbc"